Your Adoptions First Team
As we ring in the New Year, we wanted to take the opportunity for you to get to know the lovely staff you work with on a daily basis. Each of us brings unique experience and areas of expertise to the table. We could not be more thrilled to be a part of your adoption journey and feel honored that you trust us to guide you through it. Attached are short bios written by each of us covering our experience, both personal and professional, in the field of adoption.


Ronald G. Rosenberg
ATTORNEY Ron has been practicing law in California for many years. He recognizes that active involvement in the adoption process from the outset can make the adoption journey work better for both the birth mother and the adopting family. "My life is full of incredible joy as a result of my family and I find life more fulfilling when I can give back by helping other people create their own families."

Gregg S. Koffman
ATTORNEY Greg is an attorney licensed in California who performs legal services in the area of adoption. Whether representing birthparents or adoptive families, Greg is keenly aware of the emotional nature of the adoption process and the ups and downs someone going through an adoption can experience. Greg strives to smooth out the process and make it enjoyable for all concerned. Nothing makes Greg happier than to see the smiles, tears of joy and hugs shared by family members when an adoption is successfully finalized.

David Ellis
ATTORNEY After adopting his daughter over thirty years ago, David knew he would always be connected to the adoption process as he has walked "in the same shoes" as people wanting to grow their family through adoption. He realizedthat with a lot more hand-holding on both sides, the adoption journey could be improved. He made the decision to go into the field of Adoptions services because he felt that his passion to build families and solely assist people in fulfilling their dream to become parents could make a difference. This passion and personal drive has lead David to help facilitate several thousand adoptions over the last 30 years. He has represented and been an advocate for the LGBTQ community and has had the opportunity to be a guest speaker at many events. David is an Interstate Compact specialist and has years of experience handling ICPC matters. David has reduced his management role of Adoptions First and become Of Counsel, allowing for him to be more involved in the adoption process and focus solely on adoption law and third party reproduction law (surrogacy, egg donation, embryo, and sperm donation).

Renee Franklin
Director of Adoptions First, has been working directly with adoptive parents, birth parents, and adoption professionals since 1996. Throughout that time, David and Renee have successfully collaborated on a number of domestic adoptions and international outgoing adoptions, working with families living abroad who were approved to adopt children from the USA. Working with families from around the world to see that every child has a forever home is Renee's goal and passion. Her immeasurable depth of knowledge, attention to detail, and love for adoption is evident to everyone she works with. Renee supports and guides clients and birthparents with care and compassion while ensuring that everyone receives the highest quality of adoption services.

Alexandra "Ali" Desmond, MSW
After making an adoption plan for her birth daughter over 5 years ago, Ali earned a Masters in Social Work to spend her career helping others through the adoption process. Throughout her academic program, Alexandra continued her engagement with the adoption community as a Birthmother Outreach Coordinator, Adoption Agency Intern, and Birthmother Buddy. Alexandra is an invaluable resource for our birthmothers and a wonderful asset to our Adoptions First team.
Tax Season
With the New Year also brings tax season. We wanted to remind you about the Adoption Tax Credit. We have linked below an article outlining more information and encourage you to reach out to your CPA for detailed information as it pertains to your personal tax portfolio.
https://www.nacac.org/help/adoption-tax-credit/adoption-tax-credit-2018/
The Adoption Process
We understand that there are a range of experiences, emotions and questions when it comes to the process of building your family through adoption. It truly is a journey filled with ups and downs.
For those of our families who are in the waiting phase of their adoption journey, please remember to keep hope. Earlier this month one of our alumni families (photo below) reached out to us to share the joy they are experiencing as parents. They wrote: "We cannot thank you enough. Raising this little guy has been our best adventure yet." Please see our website for other testimonials that will give you hope when you question the process. While we can make no guarantees, we remain confident that everyone who wants to adopt will in just a matter of time.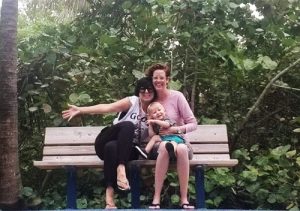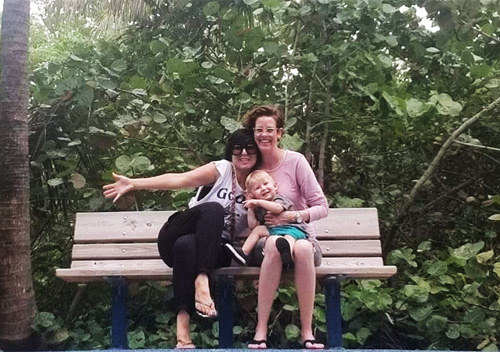 Below are some articles we found to be very informative and helpful for adoptive parents at all different stages of the process.
Adoption Laws by State
https://www.adoptivefamilies.com/adoption-laws-by-state/
Travel Tips for Domestic Adoptions
https://www.adoptivefamilies.com/adoption-process/domestic-adoptive-parents-travel-tips/
Surviving the Wait
https://www.adoptivefamilies.com/adoption-process/surviving-the-wait/failed-match/
Tips from Birth Mothers for Creating your Adoption Profile
https://www.adoptivefamilies.com/adoption-process/creating-your-adoption-profile-tips-from-birth-mothers/
Personal Story: When I Was Ready to Adopt
https://www.adoptivefamilies.com/how-to-adopt/ready-to-adopt/
SAME PASSION
NEW ADDRESS
Our New Address:
1100 Glendon Avenue, Floor 15, Los Angeles, CA 90024