Testimonials from Parents and Birth Mothers
Adoptions First works with a variety of people who have both adopted and placed their babies during our 30 plus years of service. We would like to share some of the kind words we have received. Adoptions First does not edit or censor their testimonials. In some cases, we have been asked to keep names anonymous and will always respect these requests. If you have any questions about these testimonials or would like to speak to one of our adoptive families or birthmothers for reference, we are very happy to make this happen.
My name is Kristan and I have placed with them twice now, Mrs. Renee Franklin, is the most kind,compassionate, and best friend that I have come to grow fond of. She makes you really feel 100% in control of your adoption plan. When I first started speaking with her she reassured me its never easy but it's not hard either.. We as biological mom's go through the most emotional and hard time throughout the whole process but we always ADAPT AND OVERCOME.. we are strong women and we can always be there with our children in spirit.. I have grown and matured into a stronger person because of her.. Your never alone.. You always a choice.. but if you choose adoption, Mrs Renee is always available to speak with you.. just remember if you know you can't provide and aren't able to support yourself or your child, give this agency a call they are absolutely wonderful.
– Kristan
We could not be happier with the team at Adoptions First. Renee is a true professional. We were amazed by her responsiveness and compassion for both our needs and those of our birth mother. By the end of our journey, she felt like family. My husband and I would recommend Renee, Ron, and team to anyone who feels adoption may be the right choice for their child or family.
– Rebecca
If you are considering adoption or placing a child for adoption, I cannot express how supporting and loving Renee is! When we started looking into adopting, we looked at multiple agencies, lawyers, etc. We picked adoptions first because how understanding, nonjudgmental, and truly caring Renee was from our first conversation. We had a situation that didn't work out; however, Renee was honest and upfront with us so we never felt like we didn't know what to do. We ended up matching with a birth mother and our baby girl was born a few weeks later. From meeting our daughter's birth mother, being at her birth, and even after, Renee has made this whole process more magical than we could've imagined! Also, our daughter's birth mother told us multiple times that Renee was the biggest support for her, which meant so much to us!
– Kimberly
We cannot speak highly enough of Adoptions First and specifically Renee.  While it was our first time doing an adoption, Adoptions First helped us in every way from start to finish through the daunting process.  The team guided us every step of the way, Renee was an absolute delight to work with and was always available to talk whenever needed.  We would highly recommend their services to those who are seeking adoption whether as future adoptive parents or birth parents.  Although this was our first experience with adoption, we look forward to working with Adoptions First again as we continue to grow our family.
– Michael
It's hard to fully articulate how smooth, all things considered, our adoption process was with Adoptions First. The hard work of everyone involved, most notably the inimitable Renee F. It was a long, bumpy road for us and in the end, we have the complete family we always dreamed of…all of the hard work, paper work, seemingly endless bills were all made easy to grasp and explained thoroughly to us through the team at Adoptions First.
We had had not great experiences until meeting Renee, so we were guarded, but she made us so comfortable and of importance that we decided to give it one more shot…and we are endlessly glad we did. THANK YOU THANK YOU THANK YOU.
-Jay and Joann

Adoptions First is a wonderful company led by the outstanding work of Renee. Renee not only guided my daughter through the process but was there for her 24/7.Her kindness, patience, and compassion helped my daughter get through a difficult time. Renee is also there for family members and the adoptive parents and I just can't sing her praises enough. I would like for other daughters and family members to know that an adoption is a joyful experience. It turns a negative situation into a loving, caring gift for the adoptive family that brings so much love to everyone involved. My daughter knows that her baby will be loved and cared for in the best possible home which gives her peace of mind. My hope is that other families will experience all of this as I have and turn a turbulent time in a young woman's life into a positive and loving experience.
-Catrina Grammie💜💙
They did a great job coordinating everything for us. Every question we had had a clear answer and Adoptions First made the whole adoption process much easier than we expected it to be. Everything on their end was done quickly and immediately.
-William Scrivner
Adoptions first was not the agency we were working with first hand. But when our birth mom gave birth to our son, Renee and adoptions first worked fast and efficiently to match her with a forever family. Praise Jesus, that was us! The day we matched our relationship with Renee began. She is so supportive, understanding, caring, and so responsive. She shows a genuine care and interest in both the birth families and the forever families. She continues to check on us as well as maintains a great relationship with our son's birth family. Thank you so much for being a part of adding a perfect blessing to our family.
-The Reyes Family
There are no words to describe how much we appreciate Renee! Adoption is a roller coaster, and for the entire ride they were professional, responsive, informative, and most importantly for this emotional experience- understanding. Now that our adoption is complete, we know that every twist and turn was worth it to complete our family. For those looking to adopt… it is the most beautiful experience.
– jordan glickson
Renee and the team at Adoptions First were nothing short of exceptional. They helped guide my husband and I step-by-step through the entire adoption process. They were attentive, understanding, knowledgeable and caring. They worked incredibly hard for us throughout the adoption rollercoaster and held our hands through the highs and lows. I cannot speak highly enough of their work ethic and commitment to us.
– Craig Sinel
When I contacted Adoptions First, first thing I realize is that they response real quick. Renee is really helpful answer all my questions and not only is she really professional but she also became a really good friend. When my son was born she found the most amazing family I am really thankful with all the professional team that helped me.
– yvette
I love Renee! She is so sweet and caring! She always checks up on me and still does after the birth. She is so uplifting and positive to talk to. Adoptions First helped me so much in finding a loving family and good home for my baby boy. I felt completely safe with this adoption agency and they were amazing!
– Jessica Whalley
I believe our main job as a parent is to protect and Guide our children down the best choices for their life path.
It was important to me to do this for my four children especially during the difficult times.
I faced many hardships in my personal life, my upbringing, and financially. In December of 2018 I reached out to the adoption Director Renee as one of my final options for my children to have a better life than I felt I could give them in that season. I called her in tears, feeling defeated, overwhelmed, and ready to listen to the process and things to think about or consider when opening up about the possibility of giving your children a chance at becoming adopted into a new home and what that would look like.
I was in a position in my life where I was terribly honest with the fact that I just wasn't a very healthy person in my thoughts let alone a healthy parent keeping up with my children's need for love and affection. I could barely afford caring for them being a single mother on welfare and starting my first job at a restaurant with many high expectations. For me, keeping up a decent work ethic and getting up at the same time, and doing it on a consistent basis with a smile on my face was just not what I've ever done successfully.
I had to come to accept the possibility that I was in over my head and simply couldn't keep up with this life I blindly chose. These beautiful people I birthed into the world deserve better than what I can dream of offering.
Renee told me to first speak with my family close and far to find out if anyone was willing to take in the children. She told me it be best of the siblings stayed together and suggested to me I take a look at couples in her files who are very open and in search of multiple children to join their home. She said she could send me their profiles through the mail.
She let me cry to her in my desperation to find the best solution to move beyond my circumstances and make a better choice for my children's future. There was simply nothing I could do about the past but I knew I wanted to change our lives someway somehow to overcome this very difficult season of grief regret and depression.
Though I did not choose to follow through with the adoption process Rene has kept In touch to see how things are doing and to send me encouragement. I was able to start seeing a therapist and now I'm getting a better swing of the work schedule and built coping skills to better handle my emotions.
After letting my mother and family know I was considering adoption, they all jumped on board and decided to take me serious in my cry for help. My father actually is raising my oldest child in the home I grew up in and I see her every holiday, summer vacation , and weekend. My mother stays home to watch my 3 younger children during the week when I work the night shift at the restaurant. And my sister helps me to clean up around the apartment during the week when she know I'm not able to because of work or I'm down right tired.
I want to thank this company with all my heart for being a hand to hold when I had no hope of becoming a better parent.
I was shown by this adoption company that my children and I will never have to fear the future because they have our back. Never rule out a helping hand in a crisis or time of need.
It is up to us as parents to give our children every opportunity for the best life . Thank you 🙏🏼
– Lela Marie
I called in not know what I was going to do. I spoke with renee. She was very helpful. She was very caring the entire time. Although I did not follow up with the company. I adored this company. Renee still checks on me to see how I'm doing with my newborn daughter. I really appreciate the continued love and support.
– Summer Ajmal
I have worked with Renee and the Adoptions First team since 2017 while trying to adopt my first child. At that time, I had been working with an adoption agency for over a year and had a very difficult time resulting in numerous failed matches. Although I was matched with my first son through the agency, I chose to work with Renee and Adoptions First exclusively when I was ready to adopt a second time.
Adoption is a bumpy road and it does not get any easier when you adopt as a single person – as I have. To have someone you respect, connect, trust and appreciate is a true gift. That is what Renee at Adoptions First was and is for me. I'm proud to have been able to walk through this adoption journey with her on my side, and I'm thrilled my son's birth family had her as well. I know she was a trusted friend to them and continues to be. She will always hold a special place in our hearts.
Our family is now complete, but if yours is not, I can't recommend this team enough.
– Dan Cherence
My daughter found out she was pregnant, I researched a number of adoption agencies to help her find someone to help her out. Renee with Adoptions First was very empathetic and helpful. She walked us through the process and made us feel like we were being supported every step of the way. A lot of our questions were naive, I'm sure, but she never made us feel that way. She helped my daughter out both financially and mentally with a very difficult situation. Her availability was exemplary, as there was a three-hour time difference – she was always available, and responded immediately. As a Grandma, she also helped me out, and made me feel supported, even giving me the option to call others in my same situation. I feel Adoptions First goes above and beyond what is necessary, and I would highly suggest using them if you are found in this situation.
– Marge Whalley
We worked closely with Adoptions First to adopt our 2 girls (2016 and 2020), and we couldn't have been happier with the process and the Adoptions First team. David, Renee, and Co have a gift for making adoptive parents feel like they have a collaborative partner along a journey that can have many ups and downs. We felt heard, understood, and that our needs were being taken into consideration throughout each adoptive process.
Adoption is never a linear experience; there are so many things happening at once, most of which are out of the adoptive family's control. Adoptions First excels at making sure that adoptive families have all the information in real time, and that they are accessible at any time for any reason. In particular, Renee is an amazing advocate and a clear and direct communicator. She's there to guide, give advice or just be a sounding board during a difficult or stressful moment. We can honestly say that we wouldn't have made it through our second adoption without her care and guidance.
We can't recommend this team enough. We are proud that they will always be a part of our family's story.
– Joey
A couple of years ago I adopted my first born with the help of Adoptions First. After choosing to expand my family I returned for my second adoption and just months after beginning the process I am the proud mother of two beautiful boys. I could not be happier!
My birth mother and I worked with Renee who cared about us deeply and always made herself available. She helped make my son's adoption seamless and was a guiding light and a friend to my birth mother which proved to be invaluable.
Whether you are an adoptive parent or birth parent, with Adoptions First you are important and your needs will be met. As an attorney I know first-hand the importance of proper legal representation. Adoptions First provided that and so much more, including superior emotional support, guidance, and adoption coordination, all of which are a must.
Thank you to Renee and Adoptions First!
– Cameron
From start to finish, Renee and her team was always available to answer any questions that we had, and truly cared about the future of our family. Renee's compassion for expecting mothers and birth mothers is incredibly inspiring. We had a great experience with Adoptions First and would highly recommend their services. We are so thankful for our precious new addition.
-Carter
I recently worked with Adoptions First to help me find a great home for my unborn baby. Renee who was my director was amazing hands on with everything she made me feel safe & okay with my decision & making sure I knew that if I changed my mind that would be okay as well. I highly recommend them they're not just a profession they are a family. April 10th I gave birth to a beautiful baby girl & she was placed with her family Adoptions First helped me pick out I am grateful!

I wanted to say thank you to Renee from Adoptions First! She was an amazing help through my adoption journey she was compassionate understanding and so helpful through the process heck I really felt like a gained a true lifelong friend.. I definitely appreciate her time and effort she put in to make sure I was comfortable and at ease so I definitely recommend this place!! Thank you Renee sending lots of love from Las Vegas!
– Deleshia, Birth Mother
Renee and her team at Adoptions First were outstanding in helping us to navigate the process and feelings and emotions that go hand in hand. As first time adoptive parents, we were uncertain about what to expect but Renee and team were there to guide us in each step of the way and comfort with affirmation and encouragement. We are so blessed with our baby boy and we highly recommend Adoptions First to anyone considering growing their family through adoption.
-Courtney and Josh
Thanks so much, Renee.  You're such a special person and there isn't many people like you left in the world from the bottom of my heart thank you.
-Kendra from KY, Birth Mother
When I first started the process of building my family through adoption I had no clue where to begin and I was overwhelmed by what seemed to be an extremely onerous and daunting process. I came across Renee Franklin and Adoptions First almost by accident and I'm so happy I found them! From my very first phone call with Renee, she put my mind at ease and seemed so positive that I would be able to complete my family through adoption. I don't think I was ever as convinced as Renee and now that I am the mother of a beautiful and healthy baby girl I sometimes have to pinch myself as a reminder that my dream has come true — I am a mother. Adoption is such a complicated process and Renee kept things simple and positive throughout. She was available 24/7 for any question or issue. She could be depended upon to give a straight answer with no judgment attached. She is a truly compassionate individual. I felt fully supported throughout the process and I highly recommend Adoptions First and Renee to anyone who is considering building their family through adoption.
-M K
The heartfelt attention from the team at Adoptions First was so comforting as they guided us through the adoption of our son. Renee, Ali, Bonnie and David understood our concerns and were always available at every part of our journey, from the anticipation of being selected by a prospective birth mother, to the excitement of meeting our son and his birth mother once we matched, and all the moments after. The whole team is incredibly passionate and truly cares for us, our son, and our son's birth mother. Thank you Adoptions First for being a part of our family's story.
-Stuart
A couple of years ago I adopted my first born with the help of Adoptions First. After choosing to expand my family I returned for my second adoption and just months after beginning the process I am the proud mother of two beautiful boys. I could not be happier!
My birth mother and I worked with Renee who cared about us deeply and always made herself available. She helped make my son's adoption seamless and was a guiding light and a friend to my birth mother which proved to be invaluable.
Whether you are an adoptive parent or birth parent, with Adoptions First you are important and your needs will be met. As an attorney I know first-hand the importance of proper legal representation. Adoptions First provided that and so much more, including superior emotional support, guidance, and adoption coordination, all of which are a must.
Thank you to Renee and Adoptions First!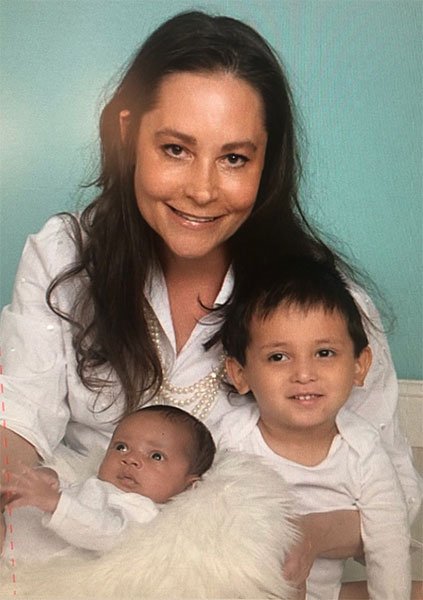 -Cameron
We can not thank you enough. Raising this little guy has been our best adventure yet.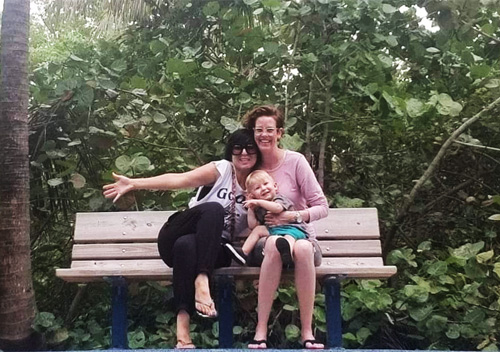 -Amanda and Angelique
Out-of-state adoption where Adoptions First supervised the entire adoption even with a local attorney
It is a dauting task to connect and communicate with the birth mom who you never knew before, and we were lucky to have Ms. Renee assigned to our case who did a wonderful job in bridging among us and facilitating the communications. Thank you so much!
-Nelson and Xenia
Being a mother is the most rewarding and satisfying thing any women can have in her lifetime. Being a mother not only means loving and nurturing your child. It includes sacrificing everything for the well-being of your child. Giving my son up for adoption was and will be the most difficult thing that me as mother could've done.
I made the decision to make sure he has everything that I couldn't give him, too a loving couple that could. I never thought I could love anything like my son and he deserves everything and more just like any child deserves.
Being adopted myself I knew how it felt to be raised by someone else other than my own mother and granted it wasn't the easiest thing to accept as a child, but as I grew older I realized how different my life could've been if I wasn't adopted. Me being a religious person I believe God puts us through tests so we can come out stronger on the other side, and I also believe everything in our lifetime happens for a reason.
Although I wasn't mentally nor financially ready to be a mother, I have given life to a precious little boy for a couple that will forever love him. And although it may be difficult some days I do not regret my decision to give my son up for adoption, this decision has made me grow as a individual and as a women in general. And to know he's in good hands makes everything worth while.
If it wasn't for Renee and the Adoptions First agency, I don't think I would've been able too get through the mentally trying time of adoption. Renee is the most understanding and sweetest person I've met. Thank you to Renee and everyone at Adoptions First.
-Birth Mother
Hey gang, for many years, I have recommended David and his staff. They have helped build my family.
-Rosie O'Donnell
David and the staff of Adoptions First are the very best. We have recommended them for many years.
-Brian Wilson
I never thought this day would come. Your team is amazing.
-Jeffrey Tambor
My family will never be the same. David and the staff opened our eyes to the adoption process. Instead of a daunting experience, we felt totally supported throughout the process with a successful outcome. The group at Adoptions First are sincere, honest and totally professional. My deepest thanks.
-Howie Mandel
While we are on the road doing our thing, we knew that we were in good hands. The Adoptions First Staff worked with both our families and they are the very best.
-Danny Federici and Garry Tallent
Honestly, this process can be very hard at times, and the strength and kindness of this group provides a hardy shelter when it gets a little stormy out there. I cannot say enough about their team, they are wonderful! There is no one else to trust your adoption to.
-Trish
My experience with Adoptions First and David was nothing short of amazing. The whole team made me feel like a part of the family and it was the BEST experience of my life…. The results… My baby boy!
-Brandi
How do I say thank you to the most amazing people I have ever encountered?!? Adoptions First is PHENOMENAL. Both our daughters were adopted at birth, but we only used AF for our 2nd adoption. After having just an 'ok' experience with our first agency, I can honestly say that NO ONE is better than AF. The communication is unbelievable, the attention to detail, and most importantly their loving hearts made this adoption experience so much better than our first. We are in LOVE with everyone that works there and cannot say enough positive words about them. I thank G-d every single day for the people of Adoptions First. They helped to create our family and I am forever grateful. If adoption is the right choice for your family, then choose Adoptions First. The minute you hold your baby you will understand the greatness of what they do on a daily basis.
-Allyson
A close friend from high school told me about Adoptions First. She had gone through the adoption experience and said so many wonderful things, she shared her story with me and so I contacted them. They were so open and friendly, made everything simple to understand, and truly deeply cared. They were there for me whenever and listened to everything. No one ever made me feel ashamed of my decision. They made me feel good about it and supported everything that I wanted through the process.
-Katie
We do know we were absolutely in the right hands with Adpotions First and do believe this could not have come together if not for their help and involvement. We will be HIGHLY recommending your team.
-Anonymous from New York
When no one was there for me, I had the staff of Adoptions First. They never judged me, never laughed at me and never questioned me. They were always there for me. To this day I still talk with them. I love these incredible women. I am ever so grateful to all of the staff at Adoptions First.
-Jessica
To help build a family is one of the greatest gifts you could give someone. I feel extremely blessed to have been through this experience and I have to give a HUGE thank you to everyone at Adoptions First.
-Sarah
If you are considering adoptions, trust in me that you have come to the right place. I was so lucky to be able to find Adoptions First. they were so comforting and they did not pressure me in any way to make this decision. I can honestly say that because of working with this office and the support system they have set up for Birth Mothers, I was able to completely transform and change my life. I do not look at this decision as one that I am neither ashamed or or regret.
-Savannah
After the birth of my son, I finally got the nerve to call about finding a family for my son. When I reached Adoptions First, I did not feel judged at all. They understood what I was going through and just wanted to help. Everything was private and I placed my baby directly with the family. It was everything I could have ever imagined and more. I feel so proud and happy with my decision. One day my child will know that I wanted the best for him just like you want for your child.
-Desarae
We don't know how we could possible convey our boundless gratitude for Adoptions First, David, and Linda in a single thank you note, but we'll try! Our entire experience adopting Keeley, from start to finish, has been truly amazing, and we have you to thank for that. We were also blown away by the check we just received in the mail – wow. If there's a "Yelp for Lawyers" where we can sing your praises, please let us know! The Jonathan Club was a special treat as well – great food and drink, better company, and Keeley's first time at the beach all made for a memorable afternoon. Lastly, we have to thank (we're guessing) Linda for her stellar taste – Keeley's splendid zebra outfit is ADORABLE.
-Spencer, Geoff, and Keeley
Thank you so much, Adoptions First. This would never have happened if not for Renee and your team. Because of discussions with her, I was educated on some topics I otherwise would not have been and I would never had met my son! I hope to speak with you all again in 2018.
-Danielle