Testimonials from Parents and Birth Mothers
Adoptions First works with a variety of people who have both adopted and placed their babies during our 30 plus years of service. We would like to share some of the kind words we have received. Adoptions First does not edit or censor their testimonials. In some cases, we have been asked to keep names anonymous and will always respect these requests. If you have any questions about these testimonials or would like to speak to one of our adoptive families or birthmothers for reference, we are very happy to make this happen.
The heartfelt attention from the team at Adoptions First was so comforting as they guided us through the adoption of our son. Renee, Ali, Bonnie and David understood our concerns and were always available at every part of our journey, from the anticipation of being selected by a prospective birth mother, to the excitement of meeting our son and his birth mother once we matched, and all the moments after. The whole team is incredibly passionate and truly cares for us, our son, and our son's birth mother. Thank you Adoptions First for being a part of our family's story.
-Stuart
Honestly, this process can be very hard at times, and the strength and kindness of this group provides a hardy shelter when it gets a little stormy out there. I cannot say enough about their team, they are wonderful! There is no one else to trust your adoption to.
-Trish
I never thought this day would come. Your team is amazing.
-Jeffrey Tambor
A close friend from high school told me about Adoptions First. She had gone through the adoption experience and said so many wonderful things, she shared her story with me and so I contacted them. They were so open and friendly, made everything simple to understand, and truly deeply cared. They were there for me whenever and listened to everything. No one ever made me feel ashamed of my decision. They made me feel good about it and supported everything that I wanted through the process.
-Katie
How do I say thank you to the most amazing people I have ever encountered?!? Adoptions First is PHENOMENAL. Both our daughters were adopted at birth, but we only used AF for our 2nd adoption. After having just an 'ok' experience with our first agency, I can honestly say that NO ONE is better than AF. The communication is unbelievable, the attention to detail, and most importantly their loving hearts made this adoption experience so much better than our first. We are in LOVE with everyone that works there and cannot say enough positive words about them. I thank G-d every single day for the people of Adoptions First. They helped to create our family and I am forever grateful. If adoption is the right choice for your family, then choose Adoptions First. The minute you hold your baby you will understand the greatness of what they do on a daily basis.
-Allyson
Being a mother is the most rewarding and satisfying thing any women can have in her lifetime. Being a mother not only means loving and nurturing your child. It includes sacrificing everything for the well-being of your child. Giving my son up for adoption was and will be the most difficult thing that me as mother could've done.
I made the decision to make sure he has everything that I couldn't give him, too a loving couple that could. I never thought I could love anything like my son and he deserves everything and more just like any child deserves.
Being adopted myself I knew how it felt to be raised by someone else other than my own mother and granted it wasn't the easiest thing to accept as a child, but as I grew older I realized how different my life could've been if I wasn't adopted. Me being a religious person I believe God puts us through tests so we can come out stronger on the other side, and I also believe everything in our lifetime happens for a reason.
Although I wasn't mentally nor financially ready to be a mother, I have given life to a precious little boy for a couple that will forever love him. And although it may be difficult some days I do not regret my decision to give my son up for adoption, this decision has made me grow as a individual and as a women in general. And to know he's in good hands makes everything worth while.
If it wasn't for Renee and the Adoptions First agency, I don't think I would've been able too get through the mentally trying time of adoption. Renee is the most understanding and sweetest person I've met. Thank you to Renee and everyone at Adoptions First.
-Birth Mother
My experience with Adoptions First and David was nothing short of amazing. The whole team made me feel like a part of the family and it was the BEST experience of my life…. The results… My baby boy!
-Brandi
To help build a family is one of the greatest gifts you could give someone. I feel extremely blessed to have been through this experience and I have to give a HUGE thank you to everyone at Adoptions First.
-Sarah
We can not thank you enough. Raising this little guy has been our best adventure yet.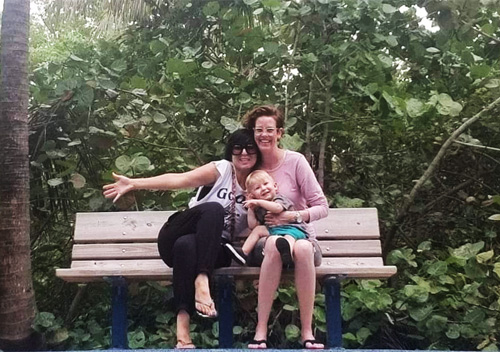 -Amanda and Angelique
Out-of-state adoption where Adoptions First supervised the entire adoption even with a local attorney
When I first started the process of building my family through adoption I had no clue where to begin and I was overwhelmed by what seemed to be an extremely onerous and daunting process. I came across Renee Franklin and Adoptions First almost by accident and I'm so happy I found them! From my very first phone call with Renee, she put my mind at ease and seemed so positive that I would be able to complete my family through adoption. I don't think I was ever as convinced as Renee and now that I am the mother of a beautiful and healthy baby girl I sometimes have to pinch myself as a reminder that my dream has come true — I am a mother. Adoption is such a complicated process and Renee kept things simple and positive throughout. She was available 24/7 for any question or issue. She could be depended upon to give a straight answer with no judgment attached. She is a truly compassionate individual. I felt fully supported throughout the process and I highly recommend Adoptions First and Renee to anyone who is considering building their family through adoption.
-M K
Thanks so much, Renee.  You're such a special person and there isn't many people like you left in the world from the bottom of my heart thank you.
-Kendra from KY, Birth Mother
David and the staff of Adoptions First are the very best. We have recommended them for many years.
-Brian Wilson
After the birth of my son, I finally got the nerve to call about finding a family for my son. When I reached Adoptions First, I did not feel judged at all. They understood what I was going through and just wanted to help. Everything was private and I placed my baby directly with the family. It was everything I could have ever imagined and more. I feel so proud and happy with my decision. One day my child will know that I wanted the best for him just like you want for your child.
-Desarae
When no one was there for me, I had the staff of Adoptions First. They never judged me, never laughed at me and never questioned me. They were always there for me. To this day I still talk with them. I love these incredible women. I am ever so grateful to all of the staff at Adoptions First.
-Jessica
Thank you so much, Adoptions First. This would never have happened if not for Renee and your team. Because of discussions with her, I was educated on some topics I otherwise would not have been and I would never had met my son! I hope to speak with you all again in 2018.
-Danielle
A couple of years ago I adopted my first born with the help of Adoptions First. After choosing to expand my family I returned for my second adoption and just months after beginning the process I am the proud mother of two beautiful boys. I could not be happier!
My birth mother and I worked with Renee who cared about us deeply and always made herself available. She helped make my son's adoption seamless and was a guiding light and a friend to my birth mother which proved to be invaluable.
Whether you are an adoptive parent or birth parent, with Adoptions First you are important and your needs will be met. As an attorney I know first-hand the importance of proper legal representation. Adoptions First provided that and so much more, including superior emotional support, guidance, and adoption coordination, all of which are a must.
Thank you to Renee and Adoptions First!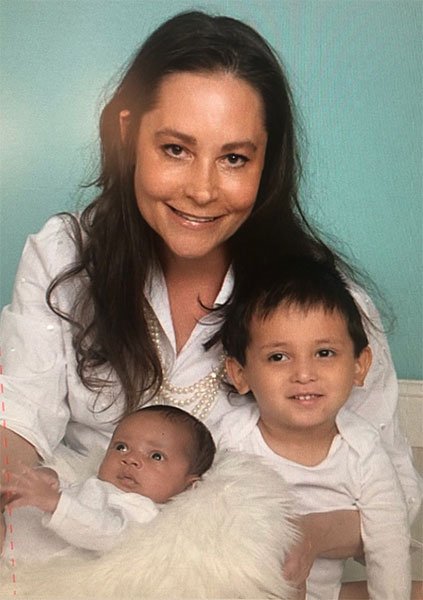 -Cameron
If you are considering adoptions, trust in me that you have come to the right place. I was so lucky to be able to find Adoptions First. they were so comforting and they did not pressure me in any way to make this decision. I can honestly say that because of working with this office and the support system they have set up for Birth Mothers, I was able to completely transform and change my life. I do not look at this decision as one that I am neither ashamed or or regret.
-Savannah
My family will never be the same. David and the staff opened our eyes to the adoption process. Instead of a daunting experience, we felt totally supported throughout the process with a successful outcome. The group at Adoptions First are sincere, honest and totally professional. My deepest thanks.
-Howie Mandel
While we are on the road doing our thing, we knew that we were in good hands. The Adoptions First Staff worked with both our families and they are the very best.
-Danny Federici and Garry Tallent
We do know we were absolutely in the right hands with Adpotions First and do believe this could not have come together if not for their help and involvement. We will be HIGHLY recommending your team.
-Anonymous from New York
It is a dauting task to connect and communicate with the birth mom who you never knew before, and we were lucky to have Ms. Renee assigned to our case who did a wonderful job in bridging among us and facilitating the communications. Thank you so much!
-Nelson and Xenia
We don't know how we could possible convey our boundless gratitude for Adoptions First, David, and Linda in a single thank you note, but we'll try! Our entire experience adopting Keeley, from start to finish, has been truly amazing, and we have you to thank for that. We were also blown away by the check we just received in the mail – wow. If there's a "Yelp for Lawyers" where we can sing your praises, please let us know! The Jonathan Club was a special treat as well – great food and drink, better company, and Keeley's first time at the beach all made for a memorable afternoon. Lastly, we have to thank (we're guessing) Linda for her stellar taste – Keeley's splendid zebra outfit is ADORABLE.
-Spencer, Geoff, and Keeley
Hey gang, for many years, I have recommended David and his staff. They have helped build my family.
-Rosie O'Donnell