We are Ryan and Tifphanie. Thank you for taking the time to read our story and for considering us as potential parents for your child. We are humbled and excited at the possibility. The gift of adoption is profound, and we acknowledge your courage and selfless consideration as you find your way forward. May you feel clear and strong during what must be a very challenging time. May you feel surrounded with love and care.
Ryan and I have wanted to be parents for a long time. We are so ready to pour our love and attention into a child. To share our home, our family, and our life. We promise to offer a supportive and loving environment for your child to grow, flourish, and thrive. We promise to do our best to offer safety, security, and sound guidance as they find their way into and through this life. We are open and available to you. We trust that the connection of our families will be a beautiful and enriching experience for each one of us, and that we can all work together to create the best plan for your child's well-being. We look forward to the opportunity and are excited to meet you.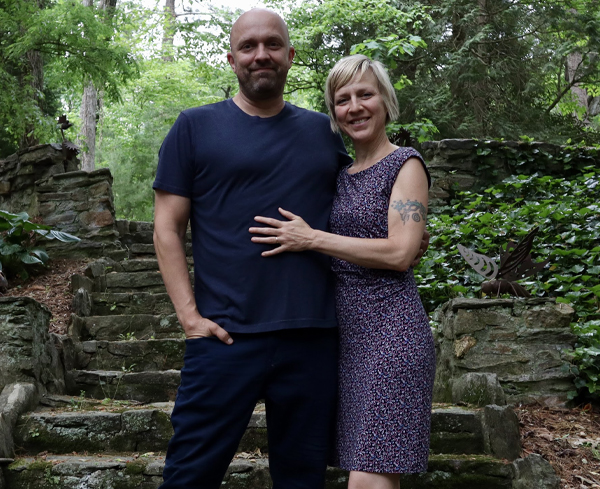 Our story begins around 13 years ago, in Austin TX, when we met through a close friend. We were fast and easy friends, and built a strong friendship over the next year. Before too long, our feelings deepened and our relationship shifted. We wanted to spend a lot of our time together and we fell in love. Given that we both have strong family ties, we became very bonded and dedicated ourselves to the growth and development of our relationship. We got engaged in Estes Park, CO, in 2014 while traveling with Tifphanie's parents. Ryan took the opportunity to ask Tifphanie's dad for her hand in marriage, which meant a lot to both men. We married in April of 2015 in Westlake Hills, TX. It was a magical ceremony outside, surrounded by close family and friends. We looked forward to our next chapter together.
Both of us had always pictured ourselves with children, and we hoped to start our family right away following our wedding. When we were unable to do so, we started to discuss the possibility of adoption as a way to expand our family. We each have cousins who were adopted as babies, and who were a very integrated part of our respective families. We also have friends who have adopted and one of Tifphanie's friends is a birth mother who placed her baby for adoption over 20 years ago. To us, the possibility of adoption is a profound privilege. The opportunity to parent a child and grow our family is a sacred one.
As a couple, we are balanced, complementary, and make a good team. We both have active minds and love to learn, play, work hard, exercise, and relax. We prioritize a balanced/healthy lifestyle and like to cook and create wonderful meals together, using veggies from local farms. We both practice yoga and like to get out with our dogs on long walks in our neighborhood. We hike the beautiful mountain trails near where we live, and we take drives to collect mountain spring water in big blue jugs to drink at home. We love music and spend time both listening and playing. We are both singers and musicians, artists at heart.
We have put a lot of time and energy into our relationship. We are dedicated, thoughtful, loyal, and communicate well. We are playful and prioritize having fun. We are also sensitive and serious at times, knowing how to be present and feel our feelings. We laugh a lot and have great conversations. Our relationship is built on love, trust, and mutual admiration. We value spirituality, honesty, and integrity. We value care for others and for the natural world and it's creatures. Our great hope is to love well and serve humanity as we are able. To do our best. To be our best selves and to also let ourselves be human. Our hearts jump at the idea of having a child to share ourselves with. Our cup is full and we have so much we are ready to give to a little human.
We love to travel… Our last couple of trips were a visit to Tifphanie's family on the family cattle ranch in western Nebraska in July of 2021 and a long drive down the Pacific coastal highway in 2019, visiting friends in Seattle and San Francisco. We also like to do shorter regional trips every few months to keep ourselves feeling refreshed and renewed. Travel is something we've learned is very important to us. We look forward to traveling with a little one, creating valuable experiences and fun memories along the way.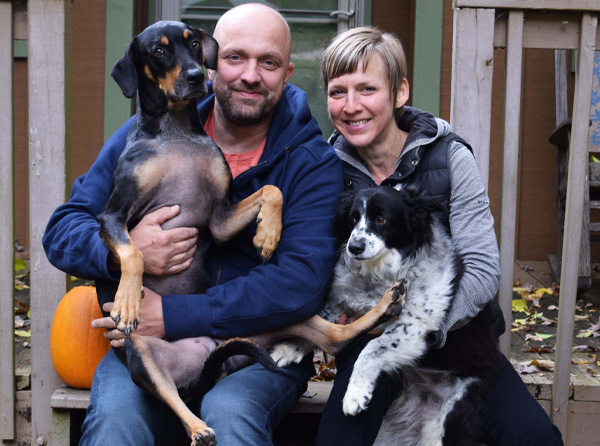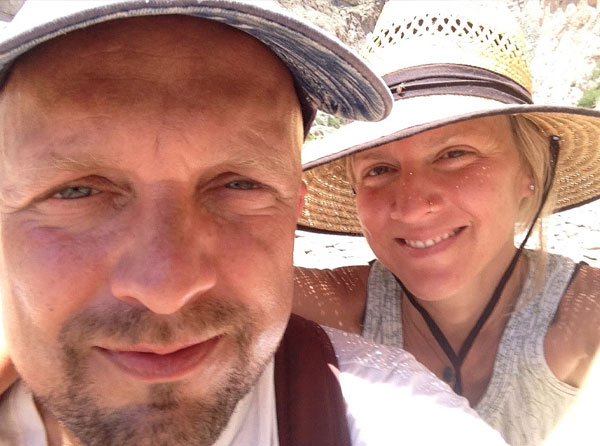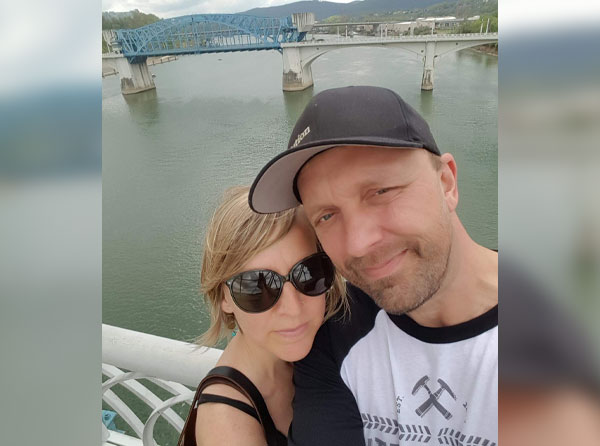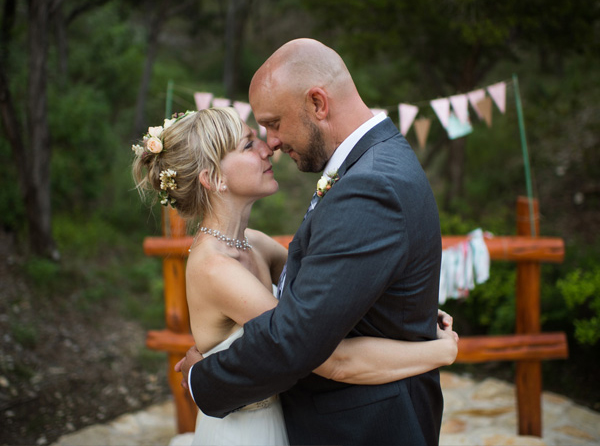 I grew up in small town western Nebraska. I have one brother, three years my junior, and my parents are still together, married 50 years. Growing up, I enjoyed many close friendships, did well in school, and was generally happy and self-motivated. I excelled in the arts and participated in choir, drama, and speech. I babysat young children in my neighborhood and from my church throughout my teen years. When I was 18, I moved to Missouri to go to college and received my Bachelor of Social Work degree four years later. Over the next years, I lived in Missouri, New Mexico, California, and eventually settled in Austin, TX. I did social work for four years after college, and later became interested in massage and bodywork. I was a nanny for five years in San Francisco while I started my training for massage. I took care of three children over those years from newborn to age 5, two being siblings, which I so enjoyed. A few years later, I became a Licensed Massage Therapist in Austin TX and grew a successful private practice over ten years. I specialize in CranioSacral Therapy, which is a light-touch healing modality. I have spent many years in active support of people in their healing. I also worked part-time at a holistic pharmacy during those years, assisting myself and others to find balance and wellness through natural health. Four years ago we made a big move to North Carolina to slow down and to live closer to Ryan's family. Here, I have shifted my massage work to the high-end Spa environment. I love my work.
I have always wanted to be a mother and have so valued the times in my life when I was able to care for and support babies and children. I love spending time with the little ones and tend to have a natural rapport with them. I offer light-hearted, focused and present attention and interest, to which little humans really respond. I am affectionate, attentive, loving, and warm.
On a personal level, I have a big heart and feel big feelings. I think a lot about the world, about God, about family, and relationship. I value my spirituality and have spent many years exploring my relationship to God and to the natural world, questioning everything, going inward, and moving my body through yoga, with great love for prayer, ceremony, and meditation. I like to hike and feel most at home in nature. I value and adore my friends and family, and enjoy human connection in balance with quiet and solitude. I love to eat delicious food, listen to music, and read good books. I also like to play piano and sing. Ryan and I sing and play music together. We have a little group of cover songs that we like to sing when the mood arises. We have two awesome dogs who I love dearly. They are like our children. All this to say, life is good and busting at the seams with color, feeling, abundance, and opportunity. I am so ready to share myself as a mother and to bring all of these parts of myself to your child. I will offer my whole heart.
Tifphanie through Ryan's eyes
There's no explaining a connection like the one I have to Tifphanie. I can say she's "my wife", "my love", "my best friend", and none of those measures up. All of them together don't measure up. Why do I want to share my life with this person? Why do I want her to respect and admire me? Why do I want to run all decisions through the filter of her judgment? Why am I so protective of her and of "us". Why do I prefer her company over the company of all others? Why does knowing that she'll be home when I get there turn my house into a sanctuary? The truth is I don't know. I just know all those things are true.
Tifphanie, as my maternal grandmother used to put it, "has a voice." When she sings, she transmits love to anyone within earshot. When she laughs, you laugh, too. She is fierce about what she believes. She is a bottomless well of affection. She has dedicated her life to healing others and is famously good at it. People want to be in her company. They want her advice and her guidance. They want her approval. They want her to look upon them and smile. I know the feeling.
Tifphanie is so beloved, by her family and mine, by her friends and colleagues, that I can only sit back and marvel at the joy she brings to so many. This is never more true than when I watch her interact with children. She's a natural. She just loves them; all of them. They feel that and they respond accordingly, by loving her back and wanting all of her attention. There's literally nothing I want more than for her to be able to give all of her love, joy, charisma, and attention to a deserving child. I want her to have it and I want to see her have it. I believe there is some little baby out there who will become a very, very lucky person to have Tifphanie as a guardian, guide, confidant, friend, and mother.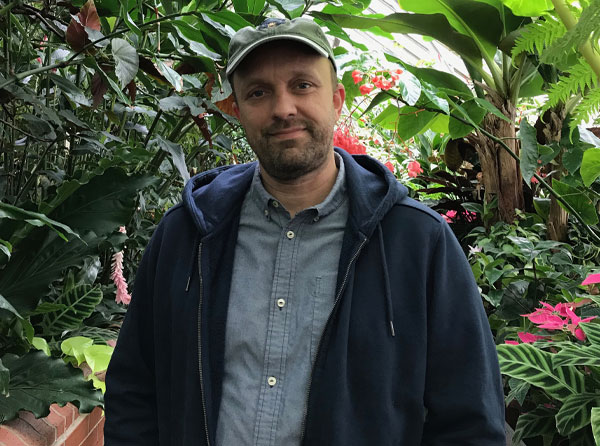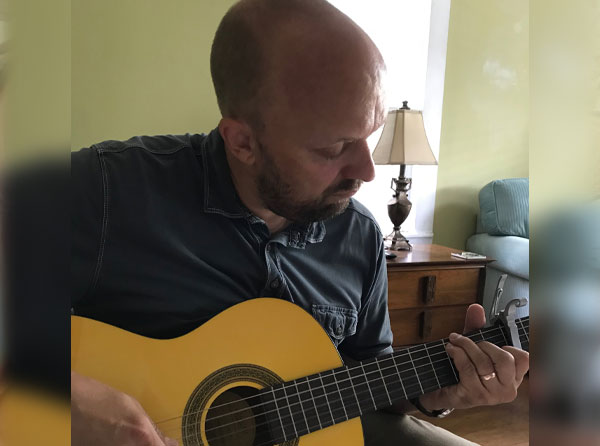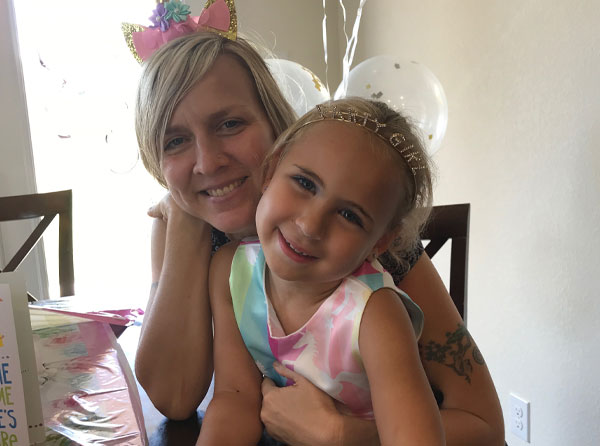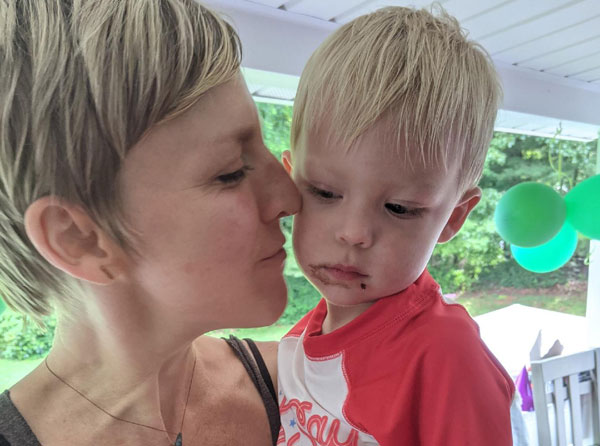 I was born in Atlanta, where both sides of my family have lived for several generations. I have one younger brother; Stephen; we're a year apart, so we're close in age as well as spirit. Our childhood together was a busy one. We played for endless hours, riding bikes, playing ball, and roaming the many trails in the woods of our neighborhood. There were friends around every corner, everyone knew everyone, and some kind of frivolous glory could be coaxed out of the last twilight minute if you had the stamina to find it. We always did.
I remember my mom's family singing Christmas carols around my grandparents' piano, my mother leading the way. She was a classically trained pianist and vocalist, a mezzo-soprano, a music teacher, and choir director for all those early years of my life. I remember my dad's mom cooking impossibly large and complicated meals for the whole family for Thanksgiving, all by herself. The heady aromas of turkey, dressing, casseroles, and pies signify some of the best memories of childhood, spent surrounded by cousins, aunts, and uncles.
I was a voracious and capable reader at an early age. I was placed into the "gifted" program in elementary school. Somewhere around this time I also began to discover my own musical tastes. Michael Jackson, Prince, hip-hop, and breakdancing came into my awareness. I became obsessed with listening to records and dancing. Eventually, I knew I had to learn to play music myself. My dad bought me my first guitar and my first drum kit. I spent countless hours locked away in my room, trying to sound the way my musical heroes sounded.
In 2007, my dad, my best friend, was diagnosed with stage 4 lung cancer. He and I had been painting houses together for about 5 years at the time. After my dad died, I tried continuing to run our painting business by myself for the next couple of years but my heart wasn't in it anymore. Somewhere in the middle of all that grief and loneliness, an idea began to hatch. I had friends in Austin, TX, the "Live Music Capital of the World." I decided to move there and start a new life. I sold all my work gear, quit my band, hugged all my family and friends goodbye, packed my instruments and belongings into a U-Haul, and hit the road.
Austin is a magical place. It's a place where you can take a year off, write a rock'n'roll album, have that album recorded, engineered, mixed, and produced for free by a guy who just loves your music that much. You can star in some music videos while you're at it. You can live in a downtown mansion, working as a live-in caregiver for a wealthy quadriplegic man who spends his days watching movies and attending art openings. You can get in the best shape of your life, taking up cycling and a deep yoga practice. You can meet the loveliest human being you've ever known and marry her under the Texas sun, surrounded by every amazing person you've ever met.
Now here we are in the beautiful Smokies. We have earned our place here. We cherish our mountains, our woods, the Blue Ridge Parkway, and the seasons. We cherish each other, our dogs, our neighborhood, and our home. I now work as a carpenter for a custom home-builder. We build some of the finest houses in Western North Carolina. I get the satisfaction of working with my head and my hands to help families bring their dream-homes to life. Tifphanie and I learn songs and sing them together. We dance in the living room, as I always have. I'm renovating our house. This summer I have been converting the finished basement into a music studio and lounge.
I've come so far and learned so much about being a human, a husband, an artist, and a soul. Now I want to learn to be a father.
Ryan through Tifphanie's eyes
Ryan is my favorite person. He is smart, loyal, loving, and funny. He is remarkably talented. I always tell him that he is good at everything he tries, and he is. He is thoughtful, sensitive, and honest. When we started dating, he was working on an album of his own orchestration. He put that album out in 2014, and it was a huge musical accomplishment for him. He's a bit of a rocker at heart, and has a fantastic singing voice. He plays multiple instruments and is a great songwriter and lyricist. He's a man of many interests and is always learning and seeking new information. He's a wonderful cook and is very engaged and helpful around the house. As a carpenter by trade, he is super handy and is currently working on a few home improvement projects around our home.
Family means a lot to Ryan. He is very close to his brother, and has big love for his nephew and niece. He was in attendance at the hospital for both of their births. He has a big heart and feels deeply. His gives a lot of consideration and care to everything that he does. He's a great doggie daddy to our dogs, engaging in lots of play and affection. They both live for when he is home and available to them, following him around the house. I have no doubt that Ryan will be a wonderful father. I know that he will embark on this journey with his entire being. I know that he will allow himself to go deep and give it his most focused care and attention. He is a wonderful partner and I can hardly wait to watch him as a dad!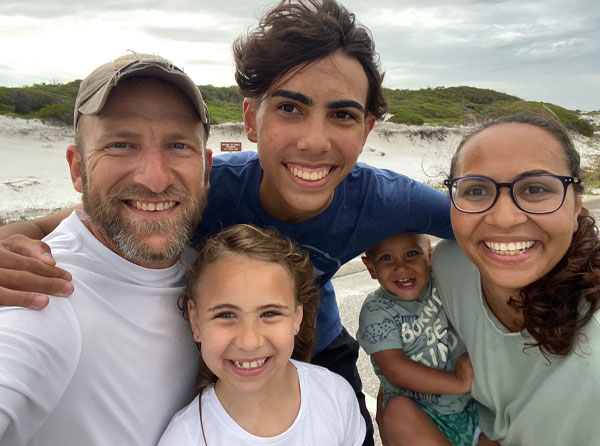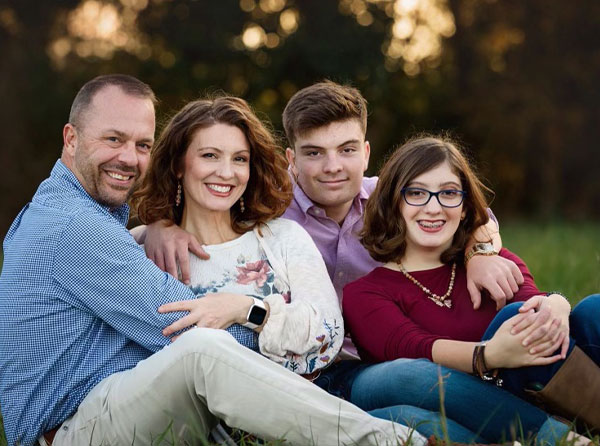 We moved from Texas to western North Carolina in June of 2018 with a dream to own a mountain home. That dream became a reality in March of 2020. Our spacious and cozy home sits on the mountain side in a quiet neighborhood lined with trees with lush green leaves in the summer, while offering mountain and sunset views in the winter. We love living in the Blue Ridge Mountains, also known as the Smoky Mountains or Appalachia. It is an absolutely magical place with beautiful things to see and do around every corner. Endless acres of forest, fertile mountain valleys, and wonderful people, culture, music, and tradition. We have many friendly neighbors, and a great community of friends who make the occasional visit. There are several children living in our neighborhood and we have neighbors two doors down who have a one year old baby girl. Our neighborhood is filled with dogs and interesting people, bunnies, squirrels, cats, foxes, wild turkeys, and even an occasional black bear. (Bears in these parts are generally docile and keep to themselves. They are community mascots and are a much loved and revered part of mountain life.) We take lots of drives out into the mountains and hike the many trails. Before long, we hope to raise our own little baby hiker. There is a wonderful and eclectic art and music scene in our town, along with a lively and historic downtown area where one can also enjoy the best of city life. We truly have the best of both worlds here and absolutely love where we live.
Our home is almost 1700 square feet, with three bedrooms, three bathrooms, and a large basement and big back yard with lots of room for play and good outside time. Our indoor space is filled with musical instruments, books, and some artwork that we love. Our kitchen is warm and stocked and always brimming with delicious food. One will often hear music coming from our house. We even have a designated dance floor in our living room for when the mood strikes. In many ways we have everything and yet we so look forward to filling our home with baby things and baby sounds and can't wait to share all that we've been blessed with.
We can't talk about our home without mentioning our dogs Mei and Maddox. Mei is a 12 year old border collie/blue heeler mix. She is independent, smart, and super sassy, even as an old lady. Maddox is a black and tan hound/black lab mix and turned five years old last January. He is an adorable big baby and slightly high maintenance, but we love him endlessly. We adopted Maddox as an 8 week old puppy, and although Mei was unsure at first, Maddox grew on her over time and they are best friends. Both dogs are healthy and active and love to play. Both are very affectionate and LOVE kids and babies. They have spent a lot of time around kids, babies, and toddlers, and we trust them implicitly to be safe with a newborn in our home. They will be wonderful older siblings and will love to have a baby in the house as much as we will.
Family means a lot to us both, and we are close with our families on both sides. Ryan's brother and his wife and two teen children (boy 18, girl 15) live about two hours away from us in South Carolina. We see them regularly and alternate weekend visits to each other's homes every couple of months. We celebrate birthdays and holidays together, and even take the occasional vacation to somewhere amazing. Birthdays are a big deal in our family for both children and adults. We bake cakes and sing and have candles and give gifts. We cook large, delicious meals and eat too much food. On Christmas, we bake and decorate Christmas cookies. The boys help decorate and the dogs beg and we have the best time, Christmas music playing in the background. We also get together on Halloween and make a huge Thanksgiving feast at one of our homes each November. We all have a load of wonderful memories of these times together and we look forward to making more as we prepare to have a beloved new little one join our family. Everyone on both sides of our family is excited about our plan to adopt. Our nieces and nephews are ready for a new cousin.
Tifphanie's brother, Justin and his wife and three children (two boys, 18 and 2, and one girl, 8) live in Austin, TX. Tifphanie's parents recently sold the family home in western Nebraska to go live near the grandkids in Texas. This was a monumental event in the family. We all met in Nebraska in July of 2021 to have one last week together there before the big move. We are very close to Tifphanie's family and make sure to travel to be together at least once per year. Most recently, Tifphanie traveled to TX in March for our youngest nephew's second birthday and the whole family road-tripped from TX to North Carolina in July for a week of summer fun in the mountains. We had such a great time together. Otherwise, we FaceTime regularly so we can see each others faces and stay close to the kiddos. We miss living near Tifphanie's family and wish we had more time together in the day to day. Still, we do our best to make sure we spend some birthdays and holidays together, and we stay in close contact.
We both have extended family in Georgia, Nebraska, Oklahoma, and Texas that we see occasionally. We have cousins and aunts and uncles that we are also close to, and enjoy the times when we can expand our family trips and travel to include them. We have been spreading the word to all of our family and friends about our intention to adopt and have been met with so much love and support. We look forward to the time when our adoption dream becomes reality and we are able to share a child with all of our loved ones. Our new baby will be so wanted, celebrated, and loved.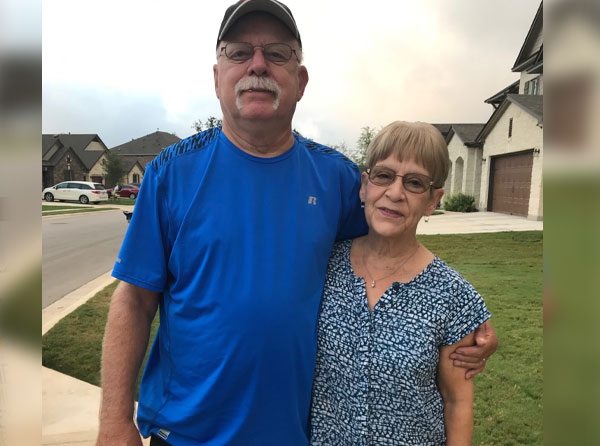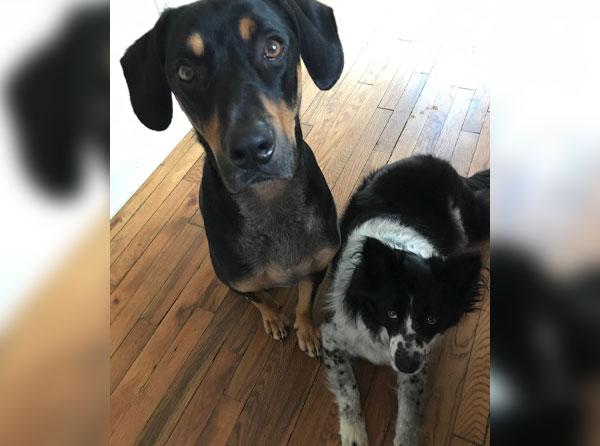 Thank you for taking the time to read about our family and for considering us as you make your plans for adoption. We are available to you and we are eager to share more about ourselves and to get to know you and your hopes and dreams for your own life, as well as your vision for the life of this child. Our shared interest is to ensure a secure and happy future for this little one as best we can. We promise to make every effort to make sure this child knows that you made your decision from a place of love. We respect and admire what you are doing so deeply, and it would absolutely be our honor to know you and to raise your child, should that be what your heart chooses.
With love,
Tifphanie and Ryan