Introduction
Michael: Hello! As we sit here together, putting together this profile for you, we are reminded how new we are to this process, and we imagine you are too. We also know this is likely not an easy time for you and we are not going to pretend we know how you feel. We can however assure you that we will support you and be with you throughout our journey together.
Pierrick: We genuinely care about who you are, what you want for your child, and promise to listen to your needs. We are already very grateful that you have taken the time to get to know about us initially through our words and photos. If you have additional questions, just let us know. We are an open book!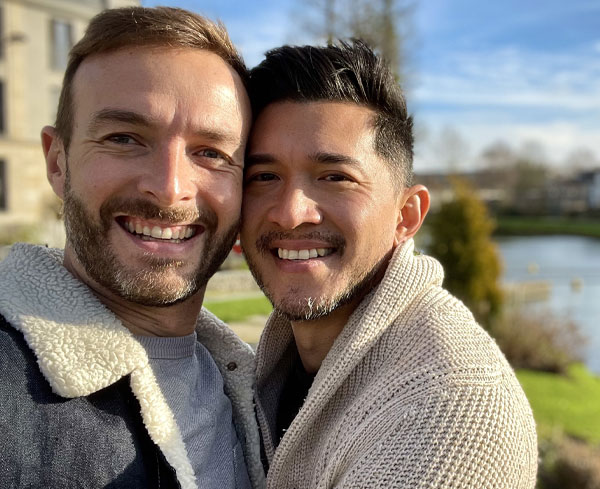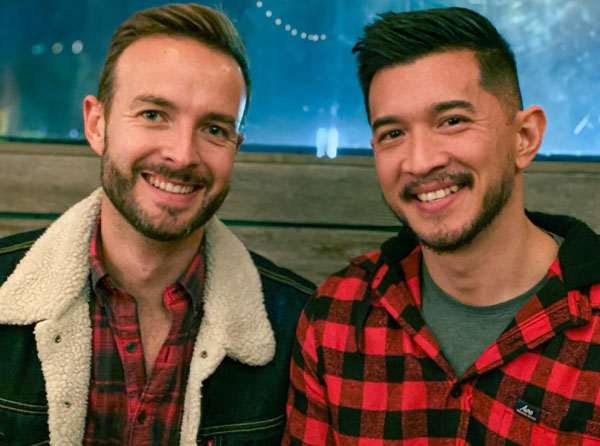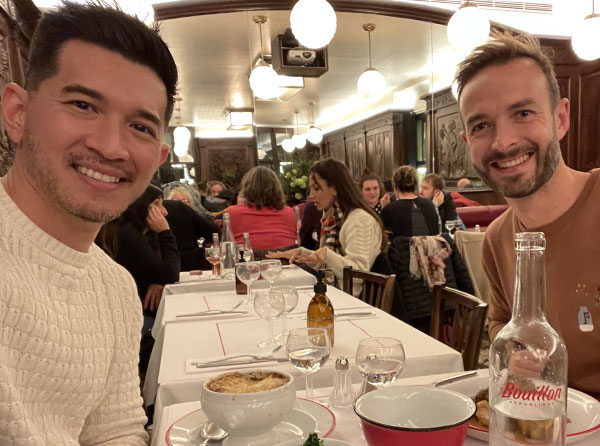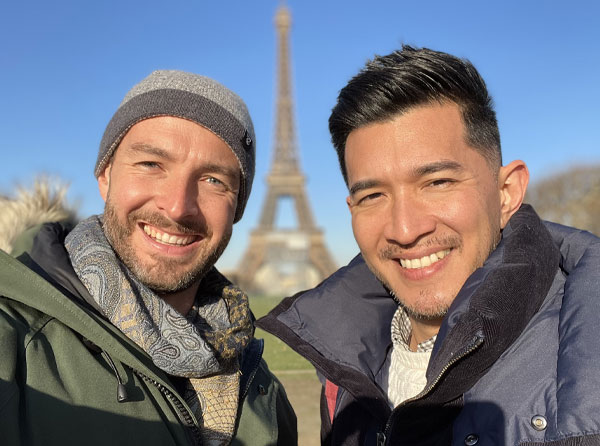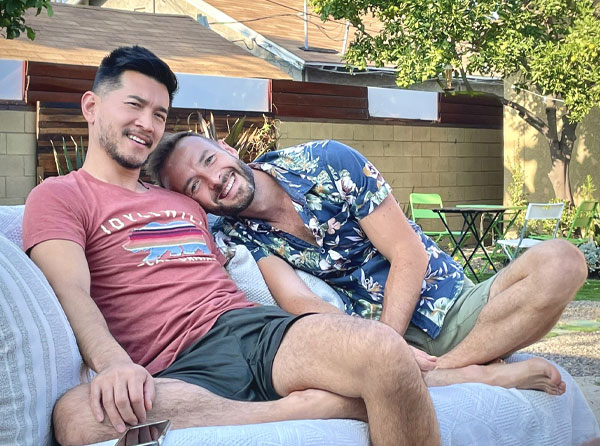 About Us
Michael: Pierrick and I met on a dating app. We often laugh about how we didn't feel romantic feelings our first five dates, and on the date we wanted to "friend zone" each other is when we felt a big spark! We look back now and feel that the universe wanted us to develop a solid friendship first instead of rushing into things. I'm glad we took that time to build a connection because I truly feel we have such a solid foundation to stand on in our relationship full of trust, communication, and respect.
We have amazing conversations and lots of laughs, including one that led to a marriage proposal! So, a few years ago I accidentally proposed to Pierrick! I say accidentally because we were having a simple conversation about our future. and we both agreed we wanted to have children. I guess in a jolt of excitement I blurted out "So do you wanna get married then?" And the rest is history!
Pierrick: Yeah, that's when I asked him, if he was proposing to me and he said, "I guess so?" We still laugh when we think of that moment because it was an unintentional proposal but felt right at the same time.
Michael: Since that day we have continued the discussion of raising a child and have researched various ways we could go about it.
Pierrick: We considered surrogacy, fostering, and adoption, and meticulously researched all three options. We felt that adoption was the best match for us as we wanted to help an expectant mother and her child navigate through what could be one of the most difficult times in her life. We also felt that it was important for us to be able to share the best we can about the origins of the child's life. Being part of the birth process could ensure a wonderful relationship with you if that is your wish, and to have vital information that will benefit your child in the years to come.
Our Promises to You
Michael and Pierrick: So, what will life look like for your child growing up in our household? To begin, your child will be loved unconditionally and will feel secure, support and loved, not only by us but our extended family and friends who cannot wait for us to begin our family.
We promise:
ღ your child will most likely end up speaking French and Japanese outside of English, as Pierrick's family is from France and mine is from Japan.
ღ your child will be educated about the world and will learn to respect all cultures and backgrounds. Yup, that means many trips to France and Japan!
ღ your child will develop great taste in food as we both cook various cultural cuisines. We promise they won't become food snobs! 😊
ღ to "do as we preach." There's nothing worse than parents who say one thing and do another.
ღ your child will learn to get up the 8th time after falling the 7th.
ღ to listen to what your child has to say and will always respond with understanding and compassion.
ღ to always laugh and giggle whenever we tell a lame Dad joke.
ღ when we read stories at bedtime, there will be a full-on production.
ღ your child will receive so much love and affection from us, and our families and friends, especially at our summer BBQs, and summer birthday parties (our family and friends combined have eight June birthdays!)
ღ not to embarrass your child when they attend their first prom, and all we want to do is take thousands of photos.
ღ that music will be a huge part of their lives, because Pierrick has a secret obsession with Rock stars.
ღ that your child will become a good friend to others and will be a good listener.
We promise to treat your child with utmost respect and care. We promise to love and nurture your child so that they will grow up to become happy individuals who will be able to contribute and make a difference in the world.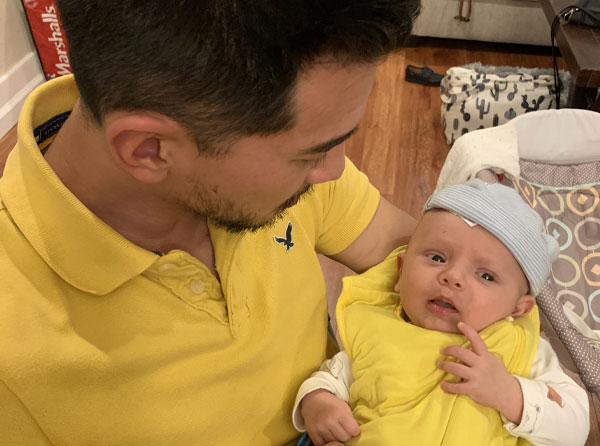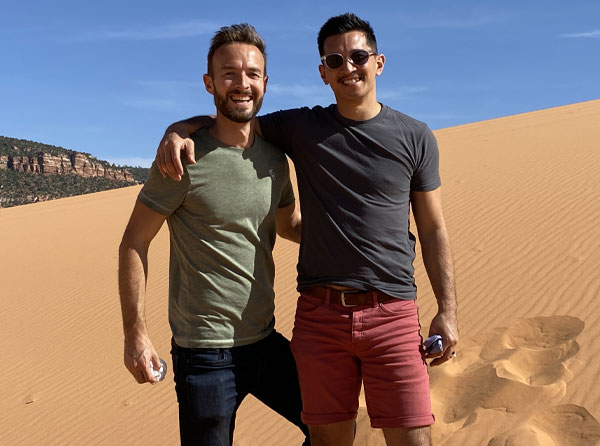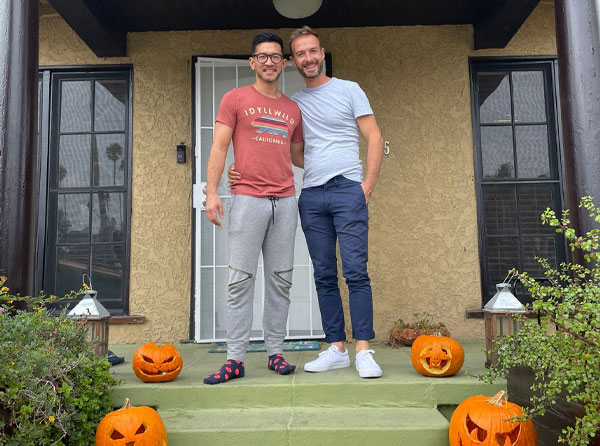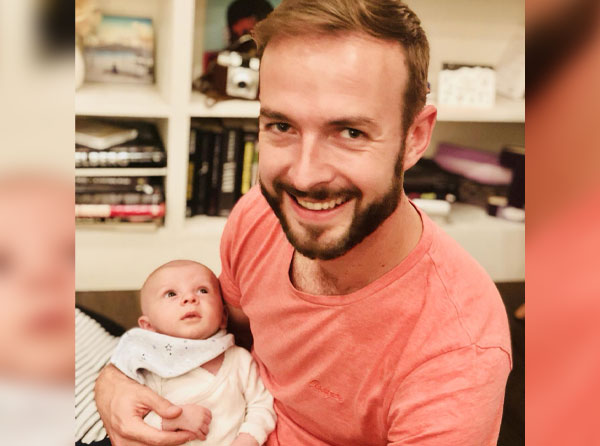 About Michael – Through the Eyes of Pierrick
What I love about Michael is his constant smile and the happy energy he brings with him everywhere he goes. He is an accomplished figure skater, now a figure skating coach, and he has a lot of patience with his students (mostly kids between 5 and 13). He often comes home from a long day of work and tells me how proud he is to see his students excel so quickly. I know it's because he is excellent with kids. He just knows how to communicate with them. But as a true Angeleno (someone from Los Angeles), he has a second career as an actor. You may have already seen a glimpse of his hard work in Cobra Kai or Shameless!
Michael is very creative and was inspired by his own personal experience as a second generation Japanese American to write his short film "Masaru," depicting his relationship with his parents and their legacy. Michael spends a lot of time rehearsing, taping auditions, and going to the gym. He is also a Buddhist practitioner and truly believes that every human being has the same potential to become happy. Not only does he believe it, but Michael genuinely cares about everyone he meets, whether a close friend or a complete stranger. He is always dedicated to help fellow practitioners, friends, and family alike. He may not be as naturally adventurous as I am, but he is always willing to follow me on a hike in the mountains or on a road trip. He is also an amazing cook, specializing in Asian meals!!
In his spare time Michael loves to do a variety of things from dancing to karaoke, to going to the cinemas. Michael is someone who thrives off of new experiences because of his big curiosity for the world. For example, when we went to Tahiti for our honeymoon, he challenged himself to snorkel with Manta Rays and swim with baby sharks. Michael's openness to try new things is admirable.
I know that Michael will be an amazing father. His genuine kindness, creativity, care for others, playfulness, and the many other endearing qualities he possesses will bring such joy and comfort to a child.
About Pierrick – Through the Eyes of Michael
Pierrick will be a wonderful father! He has so much love to give a child and there is nothing he wants more. He loves to laugh, is patient, supportive, and always up for an adventure!
When I met Pierrick for the first time, aside from thinking how handsome he was, I felt a genuine sense of kindness in him. As I got to know him better, I was truly touched by his character as a person. When he'd share stories about how he challenged himself to run a full marathon one year or how he faced the daunting ridges by climbing Mount Kilimanjaro, I felt a deep respect for his spirit to achieve a personal accomplishment. He is goal oriented and is always pushing to complete a task.
Pierrick is an amazing journalist. The stories that he covers for French TV and the people he interviews always teach me about the unique diversity that exists around the globe. When he is not busy reporting, Pierrick loves hiking, gardening, and cooking delicious French pastries which don't make my love handles happy 😊. He has a diverse and awesome group of friends that I enjoy spending time with. He has taught me the importance of traveling and taking time to see the beauty of the world. Every summer we go back to France to visit my in laws, and it has become a tradition to spend time in their summer house in the south of France. We make delicious meals, play games, chat about life, and it always feels so great to see the family come together.
I cannot wait to experience fatherhood with Pierrick! I know he will make an amazing father because of his kind and patient temperament. He has so much generosity and consideration when interacting with anyone he meets. I know his big heart will touch your child's heart!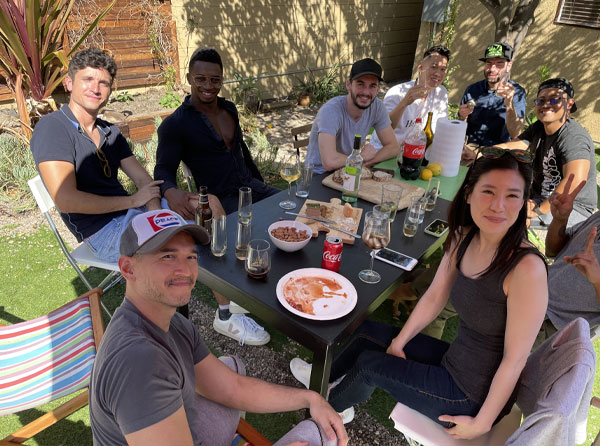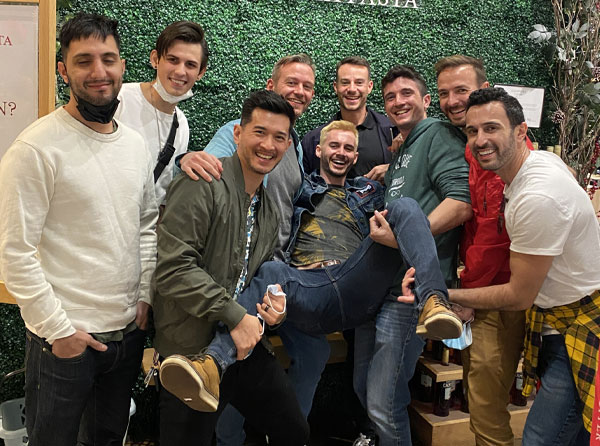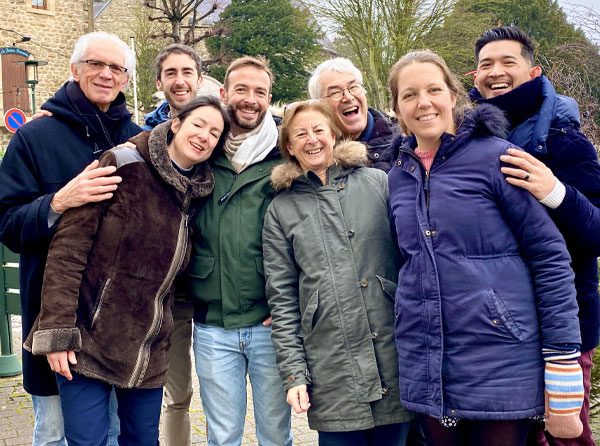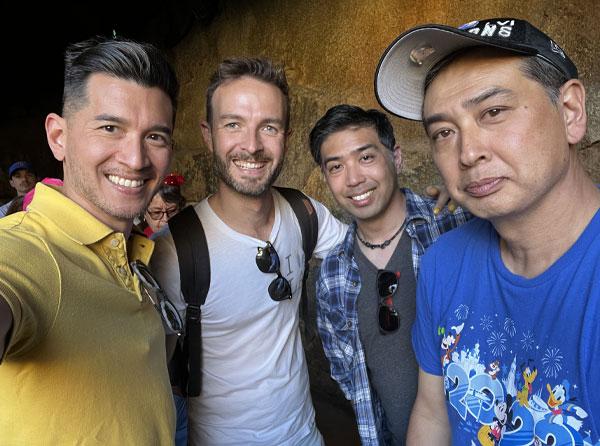 Our Home
Michael: In the summer of 2021 we moved into a charming house in a central and residential neighborhood in Los Angeles. Our home has a cozy vibe and is the perfect place to grow our family. There are 3 bedrooms,2 bathrooms, a piano, a large backyard with a pond, sand area, and fire pit.
Michael: When we first visited our neighborhood, which has many families, we immediately knew this was where we wanted to raise our children. Just a block away is a wonderful elementary school. Every day, on my way to work, I see parents walking their children to school and can't wait for that to be me! We already picture our children going to school every morning with a backpack, lunchbox in hand, and a big smile on their face.
Pierrick: In addition to amazing schools, there are a lot of shops, parks, playgrounds, local services theatre, restaurants, and more so there is always something to do and somewhere to go, including the beach!
Pierrick: We spend a lot of time working on our home, from gardening (we are about to grow our first tomatoes and welcome more fish in our pond) to completing fun projects indoors. What we enjoy most is entertaining, having our friends and their children over for barbecues at night or to just relax and enjoy Sunday afternoon together. We look forward to doing these things and more as a family.
Family and Loved Ones
Michael: Pierrick brought socializing to a new level in my life. He has a large family in France and many extended family members, so our family gatherings during the holidays/vacations are always filled with exciting conversation and lots of laughs. His parents are absolutely the sweetest and most generous people. His brother and wife, and his sister, are genuine and grounded. Each year that I go and visit them, our connection gets deeper. I'm currently learning French so that I can one day be fluent enough to have a French conversation with them!
Pierrick: I really adore Michael's two older brothers. They both live about an hour away so we get a chance to see them several times throughout the year, and every time we get together it's always so joyful. Their pure hearts and good sense of humor always keep me smiling. It's become a tradition to spend Thanksgiving together. Though his parents are no longer with us, I could feel that they instilled in him strong values of love and compassion which are strong qualities in his life. Michael and I often talk about taking our future family to Japan to learn about his family lineage as well as the Japanese culture.
Michael: I've also come to truly appreciate Pierrick's circle of friends in LA. It could be challenging to make new friends in a new city, and somehow, he seems to have the kind of personality that attracts people into his life. I love how a lot of his friends have children because it gives us inspiration to have our own family. Every time we see his friends, I always end up in conversations about raising children (especially diaper questions and asking how to teach them to talk). Please be rest assured that we will have the support of so many friends when raising your child.
Pierrick: Getting to know Michael's friends has also been great. Most of his friends are people he either went to school with or has known for quite some time, so it's been kind of fun getting to know him through them. He too has many friends that have children and so it's been really encouraging to see him interact so naturally with kids. He seems to be able to speak their language.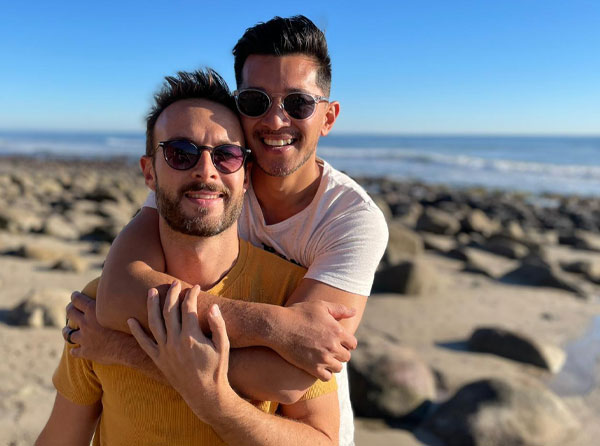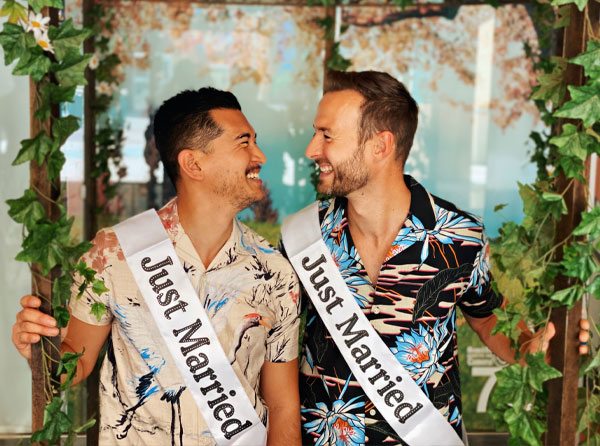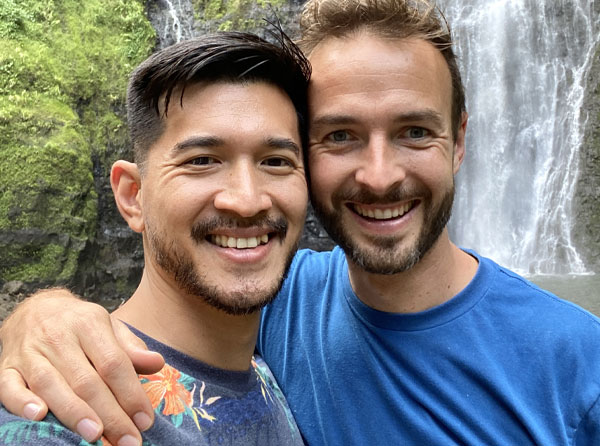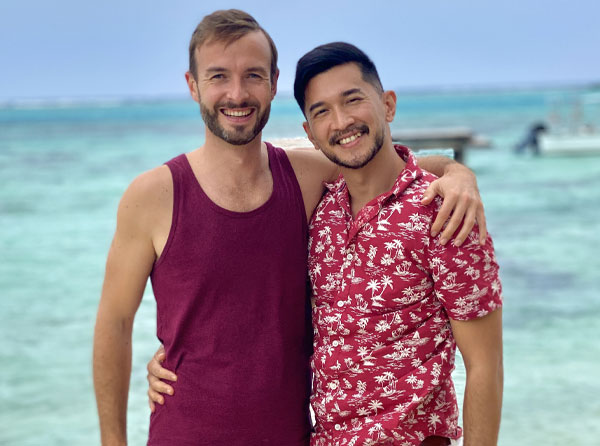 As we finish our profile, we find ourselves even more excited about meeting you and your baby. Please know that your happiness and comfort means everything to us. We will always be sensitive to your needs and to what matters to you most. If you want a high level of openness in your adoption, and for us to be there every step of the way, we will be 100%. We also won't be offended if you need your personal space during this process. Whatever you prefer, you have our support. We are super grateful that you have taken the time to get to know us and consider us to adopt your child. Thank you so much!
With love,
Pierrick and Michael