Introduction
Hi! We are Christa and Wayne, and we really appreciate you considering us as adoptive parents for your baby. We hope this page will help you start to learn about us and the life and love we have to share with a child. And we hope to have the opportunity to learn about you and your wishes. We know that you are making a tremendous, thoughtful, and emotion filled decision for both you and your baby and we have great respect for you. We send you our very best wishes for your journey.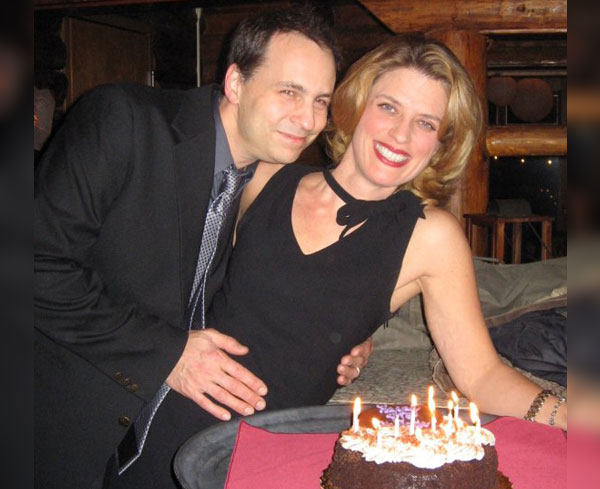 Our Promise to You
There are so many things we don't know. We don't know what color eyes or hair our child will have, what interests and special skills they will develop or if they will be reserved or outgoing. And we don't know what heartaches and beautiful surprises will pop up along the way. But what we do know is that we will be a loving and supporting family to whomever our child is. We will encourage him or her to follow their dreams, explore their talents, be healthy, to care for others and themselves. We will provide guidance and structure for him or her so that they feel safe and secure. We will have a house filled with love, laughter, silliness, hugs, bed time stories and pets. We promise to be the best parents we can be and lovingly teach our child about their journey to us.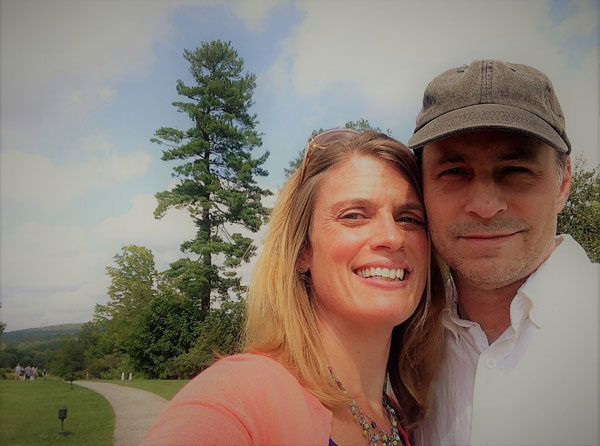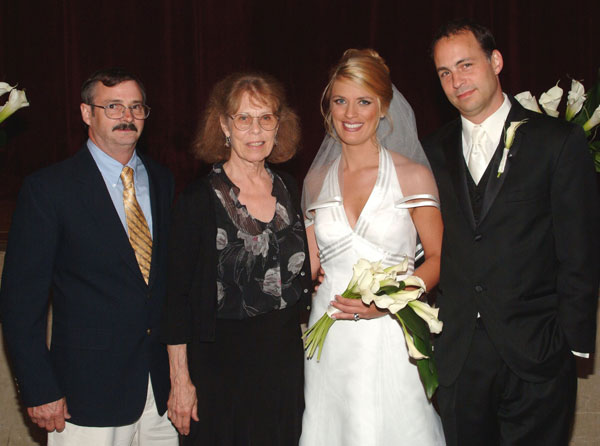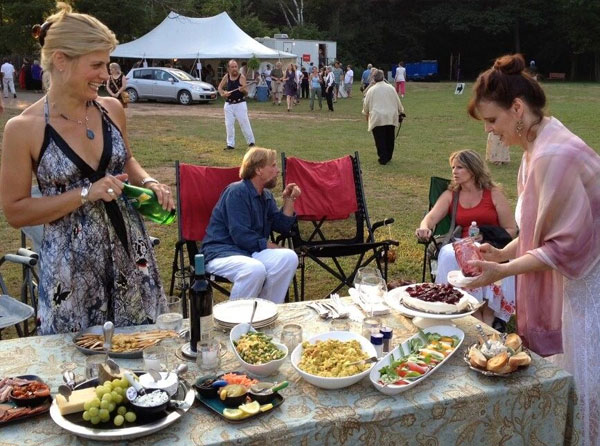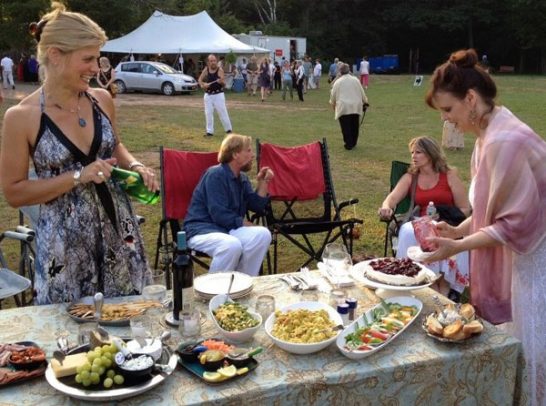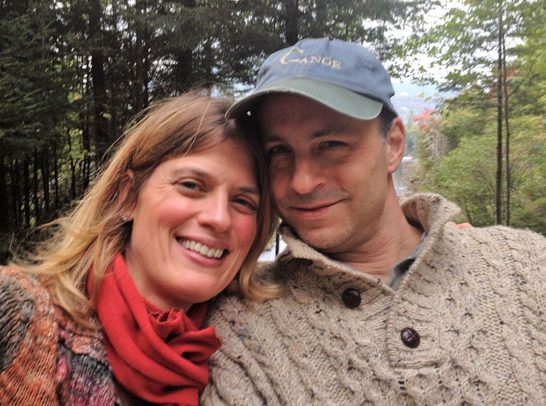 Our Story
We are both from the Midwest and met while students at Indiana University. Go Hoosiers! A mutual friend brought Wayne to see a play Christa, was performing in and she was smitten right away by this tall guy with wavy hair and a mischievous grin. After graduation Wayne went off to Germany and Christa to Chicago. We reconnected years later when our dear friend who introduced us tragically passed away. Wayne was now living in the Catskill Mountains of New York and we visited each other for several years and wrote long emails and talked on the phone late into the nights before deciding that it was time to be in the same zip code! Christa traded in the Chicago Bears for black bears and moved to be with Wayne.
We held our wedding on the campus of Indiana University, where we first met, surrounded by the ones we love and lit a candle in honor of our dear friend who brought us together. It was special to have Wayne's father, a pastor, officiate the wedding. We have now been married for 10 years!
Our Furry Family
We are huge animal lovers and currently have one very engaging and affectionate tabby cat named Guy. We are often cat or dog sitting for our friends and can't pass an animal without petting it. And we are so lucky to see wild animals every day. Every time we see a woodland creature passing through our yard (fawns, bunnies, bears, porcupines, fox, wild turkeys) we both run from window to window to watch it. And our bird feeders in the winter and humming bird feeders in the summer are always entertaining. Our child will grow up in a home learning to love and care for animals.
About Us
CHRISTA's THOUGHTS ABOUT WAYNE: Wayne is going to be a great Dad, especially when it comes to teaching our child to read, study, think and question. When Wayne gets curious about a topic he becomes incredibly focused on learning everything he can about it. It can be about cooking: he makes great hot sauces, pickles, bread (I thought I would gain 10 lbs. when he started baking fresh bread everyday perfecting his technique), or about things more practical like how to fix the snow blower or washing machine. His curiosity is amazing and he is a self-proclaimed news junky. Plus, he has a goofy sense of humor and will make up silly lyrics to familiar songs to make me laugh. Even though he can come across as the quiet stoic type, he is also very sensitive and will tear up while watching classic movies like The Wizard of Oz or The Sound of Music… although he will deny it if you ask him. I cannot wait to see Wayne become the doting father that he is looking forward to being.
WAYNE THOUGHTS ABOUT CHRISTA: Christa has talked about being a mother since I have known her back when we were friends in college. I have no doubts that she will be a great mom and role model for our child (just as Christa's parents are for her). She will provide a safe, loving presence for our child. My wife is amazing to observe. She never stops trying to accomplish things and makes our life and home as nice as it can be. She has sewn curtains, re-covered pillows, made cushions for outdoor furniture, repainted and stained old furniture, and hunts down great antique and 2nd hand finds for us. She enjoys her work as a producer and loves being an actor (It's very special when I get to watch her on stage). She is a natural care giver and gives me, her friends, family and pets as much love and support as she can. She has a big laugh and enjoys being silly. She makes time daily to exercise: yoga, hiking, running…and I know she can't wait to get a baby jogger so she can run with our child. Christa is a sucker for old fashioned murder-mysteries and usually falls asleep at night with a book on her chest. She is going to be a fabulous Mom.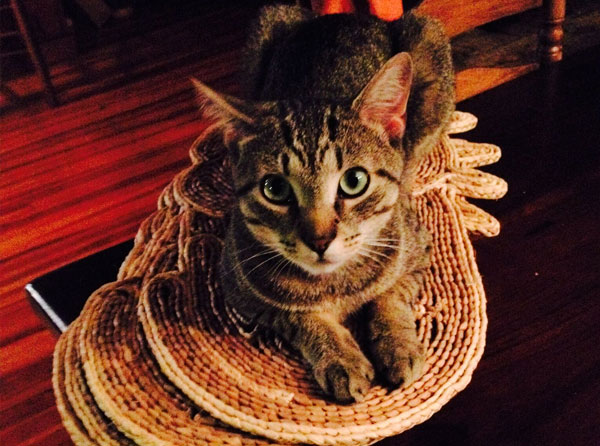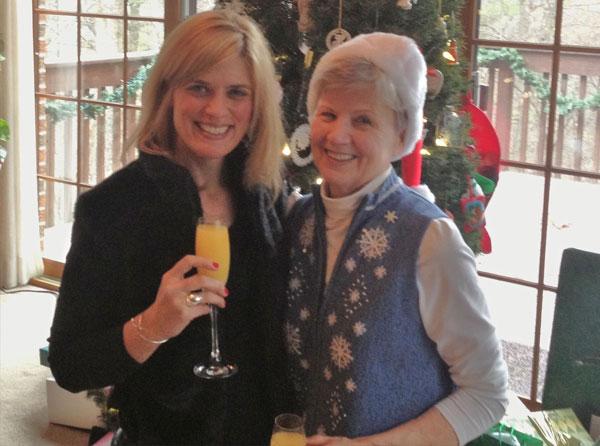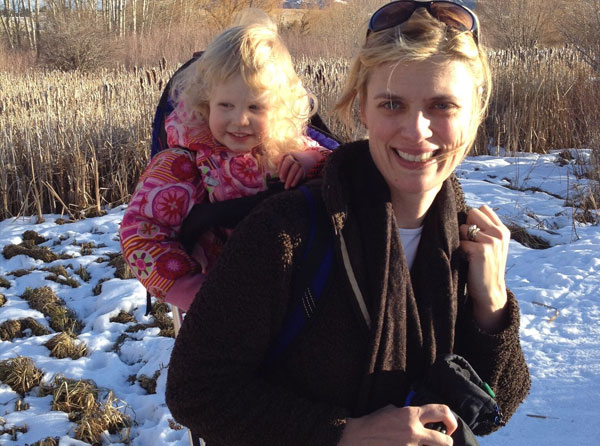 Our Home
We like to joke that we live in a postcard. We are in the heart of the "Forever Wild Catskill Park" in upstate New York surrounded by forests and streams. We spend as much time outside as possible. Wayne likes to use the front porch as his home office, even if he has to wear a wool cap while doing it. Christa has been known to take a conference call while weeding the gardens and memorizes lines for the plays she is in while taking long walks on country roads. In the summer we enjoy eating our meals out on our patio and love to watch the stars come out and the bats race around catching mosquitos in the night sky. Christa takes care of the garden and yard while Wayne has a wood working shed that he likes to create things in, like a pot rack and recipe book shelves for our kitchen!
THOSE WE LOVE – We are blessed to have so many dear family and friends who support and encourage us on this journey to be parents, and they are ready to open their arms and hearts to our child. Both Wayne and I are very close to our parents and they are so looking forward to being doting grandparents to our child. And we have a small army of friends lined up to be honorary aunts and uncles.
Our Community
Our town has a charming Main Street and every time you go to the post office you run into at least three people you know! The library in town is amazing and always buzzing with activities for kids. There is a nice park with the mountain rising up all around it. Our elementary school has a very active school board that strives to make it a safe and creative place to learn. There is a huge international music festival in Phoenicia each summer. The community is safe, neighbors look after each other, and most people don't lock their doors (which was amazing to Christa after living in Chicago!). Our home is nestled on the side of a mountain, about a mile from the village center. We are surrounded by woodlands and we have a little wildlife pond that we look forward to watching tadpoles, turtles, lizards and frogs with our child. We will take our child on hikes in the summer, snow shoeing in the winter and watching stars come out at night. Wayne is good at skiing and will enjoy taking our child to their first lessons at the local ski mountain.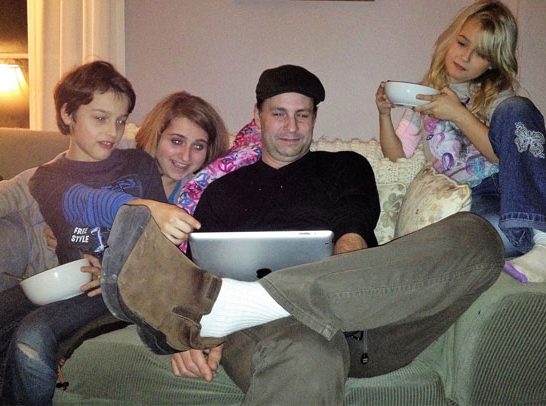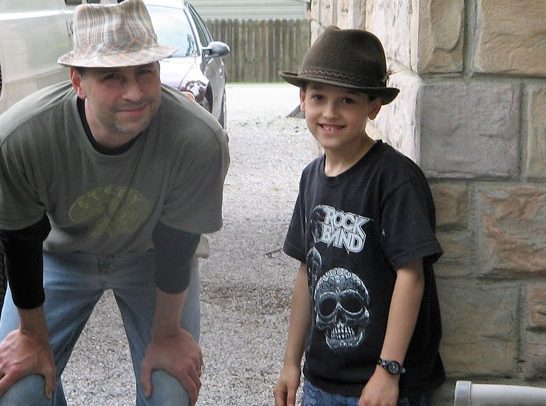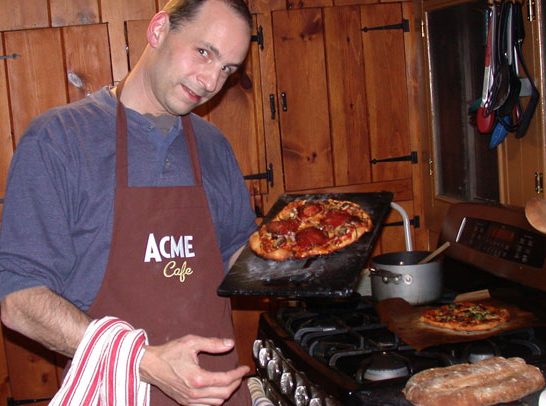 Career/Occupation
Christa is an actor and producer who has the flexibility of working from home (sometimes in her PJs), producing corporate events, videos, independent films, and documentaries. As a professional actor her big love is theatre and she is an ensemble member of a theatre company that along with producing shows, also works in high schools with anti-bullying workshops and has a wonderful summer youth workshop for kids.
Wayne is a senior software engineer and developer. His firm's activities range between community-oriented websites, e-commerce, marketing and social advocacy. Wayne really enjoys being a mentor to the young interns who work in his office. He also has the flexibility of often working from home, usually with a cat curled up next to his computer.
Holidays & Family Vacations
Christa especially loves holidays and always tries to do something to make them special whether it be an Easter egg hunt for her friend's kids or making Irish Brown Bread and Fish Chowder for friends on St Patrick's Day. She loves wrapping presents and sending out cards at Christmas and grilling (Wayne's specialty) on the patio for the 4th of July. She admittedly can go overboard sometimes, as Wayne watches her bounce around the house getting ready for a holiday or event! At Halloween there will be pumpkin carving and hay rides and you can be sure Christa will be staying up late sewing a Halloween costume (just like her Mom did). We can't wait to plan birthday parties for our child and bake his or her favorite cake. We both have great memories of family vacations and we look forward to packing up the car and heading around the U.S. to see the sights and show our child national parks, historic sights, oceans, small towns, big cities, regional foods and fun oddities on the way. At Christmas we will be back in the Midwest to visit our families and summers will be visiting friends in Chicago or Wayne's extended family in Florida and spending days on the beach. We plan to put a lot of miles on our car and always stay at a motel with a pool! We want to make holidays and family time special for our child and create great memories for him or her.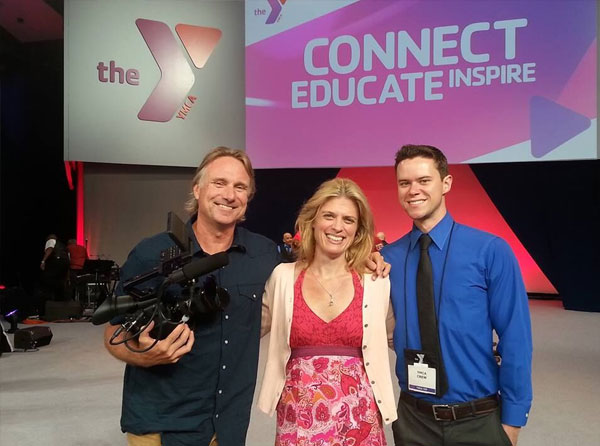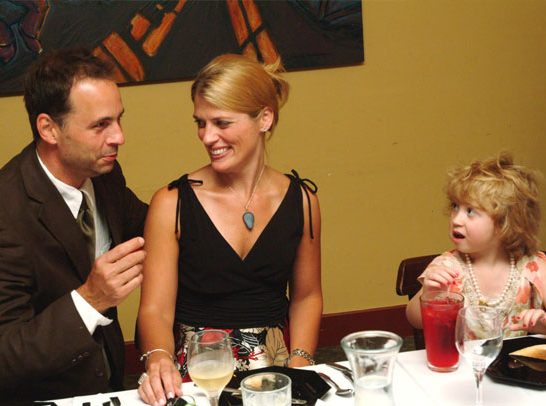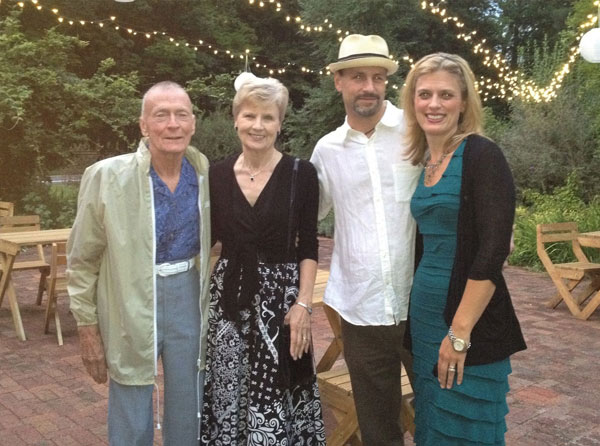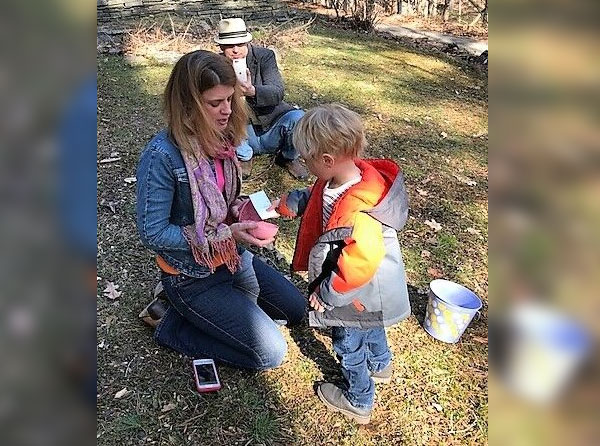 Thank you for taking the time to read about us. We hope you feel you have had the chance to get to know a little bit about us and we would be honored to get the chance to meet and get to know you. You are doing a very courageous and selfless act of love. We send you peace and love and our best wishes
With love,
Christa and Wayne